Dangerous and derogatory vaginas: Invisible Women Issue 2
Welcome, my generic female pal (GFP), to issue two of Invisible Women: The Newsletter!

This is the week that the world discovered that the female reproductive system is "dangerous and derogatory." I jest, of course. Women and our wandering wombs have been both dangerous and derogatory for millennia.

Still though. Eternal optimist that I am, I sometimes like to dream that we've moved on from 2012 and we can now say vagina with impunity.  Not so fast, says tech, which responded to the release of a book called The Vagina Bible...by banning the word "vagina" from ads for the book. Yes, that's right: a book called The Vagina Bible had to be advertised on twitter like this: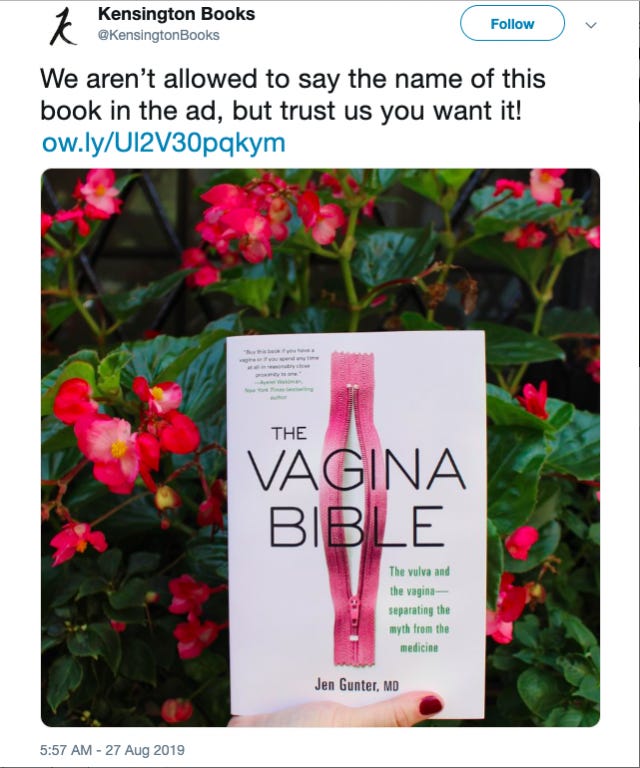 Facebook similarly objected to the word vagina: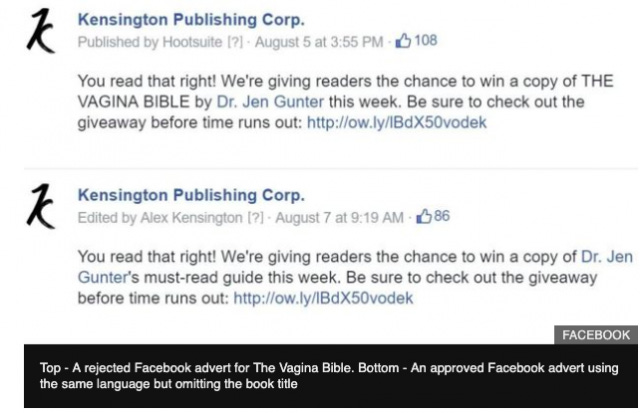 Last, but certainly not least, came Google, armed with pink and blue hazard tape, ready to protect its sensitive users from the horrors of a the word..."period."

All three companies have since backtracked, claiming that these decisions were mistakes. And maybe they were. But it's certainly interesting, isn't it, that companies where only about 22% of tech staff are women (and only around 35% of employees overall are women), should all make the same honest mistake of thinking that the female reproductive system is unspeakable in all senses of the word.

What has this got to do with the gender data gap? Simply that, as I argue in Invisible Women, the data gap isn't just about numbers. It's also about a failure to value female perspectives and life experiences -- and the gaps in our knowledge that arise from that failure. So just as when Apple (23% tech staff are female) forgot that periods existed at all, these stories show that the diversity of your team matters. Because with the best will in the world, men simply won't always remember that female bodies exist -- or that they exist for reasons other than titillation. They have a gap in their data.

This free publicity offering from the patriarchy rather reminded me of how NASA kindly decided to run a viral marketing campaign for me the week after Invisible Women came out: they derailed their first all-female spacewalk by forgetting to provide enough (two) spacesuits that fitted the female bodies that were going to do the walk.

To sum up: thanks patriarchy! Your tireless work is noted and much appreciated by female authors everywhere.
 
Representation Coda
In a report on the representation of women in AI research, NESTA found "a serious gender diversity crisis in AI research." Only 13.83% of authors are women, and "in relative terms, the proportion of AI papers co-authored by at least one woman has not improved since the 1990s."

This matters, because as their research found, men and women tend to focus on different things in their research: "papers with at least one female co-author tend to be more applied and socially aware, with terms such as fairness, human mobility, mental, health, gender and personality being among the most salient ones," they write, adding that, "Women are at least as capable as men in contributing to technical topics, while they tend to contribute more than men to publications with a societal or ethical output." 

One finding of theirs really struck me: every organisation and academic institution in their dataset had less than 25% female AI researchers.
Regarding some of the big tech, only 11.3 per cent of Google's employees who have published their AI research on arXiv are women, while the proportion is similar for Microsoft (11.95 per cent) and slightly better for IBM (15.66 per cent).
There was only one exception: the University of Washington. And this stood out to me because when I was researching male bias in AI, one institution kept coming up in the credits for research that actually bothered to look into algorithmic bias. And that institution was....the University of Washington.

One researcher found that Google's speech recognition software was 70% more likely to accurately recognise male speech than female speech (IW, p.162); another paper found that not only did pictures of men greatly outnumbered pictures of women in two commonly used datasets, but that algorithms trained on these datasets were amplifying the biases in the data, and the bigger the bias the bigger the amplification effect. For example, pictures of cooking were over 33% more likely to involve women than men, but algorithms trained on this dataset connected pictures of kitchens with women 68% of the time. The good news? These researchers weren't just noting the bias: they were coming up with code to fix it -- and their new algorithm reduced the bias amplification effect by 47.5%  (IW, pp.164-8)
  In other good news, Women Leading in AI (WLinAI) have come up with 10 regulatory recommendations, including a 'Certificate of Fairness for AI systems' kite mark type scheme, and mandatory AIAs (Algorithm Impact Assessments) for organizations employing AI. All that is needed now is for governments to adopt them. British readers can email their MP here.
Male default of the week
The rather grizzly discovery by Brooke Watson, a senior data scientist at the ACLU, that deleting the "family" emoji in Google slides is not a one-step process. Rather, it involves killing off each member one by one, until you're left with, of course, default male: 👨
It's the same story if you want to delete the black female runner. First, you delete her sex. And then you delete her blackness. Until you're left with our good old default white male (yes it's yellow, but since white is as default as male you can be sure people are interpreting the default emoji as white): 🏃‍♂️

It's all a result of the history of emoji. From Invisible Women, p.8:
Unicode has not historically specified the gender for most emoji characters. The emoji that most platforms originally represented as a man running, was not called 'man running'. It was just called 'runner'. Similarly the original emoji for police officer was described by Unicode as 'police officer', not 'policeman'. It was the individual platforms that all interpreted these gender-neutral terms as male. 
To do it credit, when Unicode realised that its gender neutral "runner" was being exclusively interpreted as "male runner," it issued gender specific code for all emojis that depicted people. It's just that, because the original code had all been interpreted as male, "female" and "black" were seen, in code terms, as add-ons. As in emojis, so IRL.
 
Bonus Default Male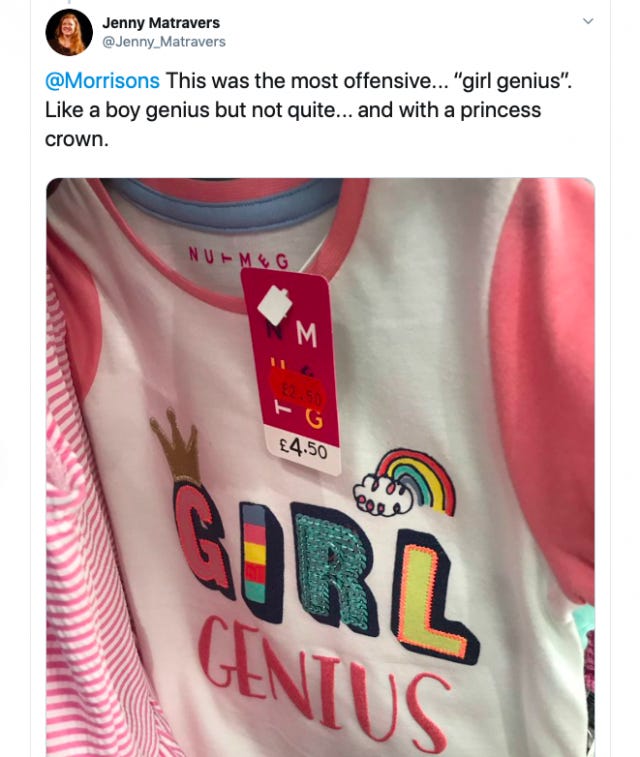 This framing of genius as default male is particularly harmful because, as I discuss in Invisible Women, we already teach girls that genius is a boy thing. From Invisible Women, pp.100-1  
A recent US study found that when girls start primary school at the age of five, they are as likely as five-year-old boys to think women could be 'really really smart'.43 But by the time they turn six, something changes. They start doubting their gender. So much so, in fact, that they start limiting themselves: if a game is presented to them as intended for 'children who are really, really smart', five-year-old girls are as likely to want to play it as boys – but six-year-old girls are suddenly uninterested.  
 
Oh go on then, just one more...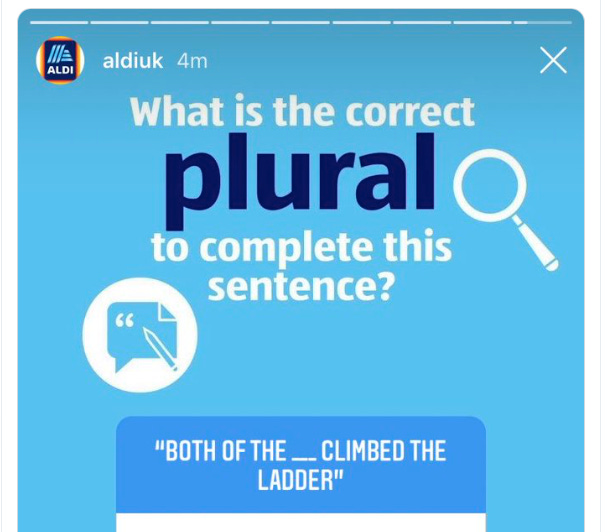 I don't know, Aldi, what *is* the correct plural to complete this sentence...oh.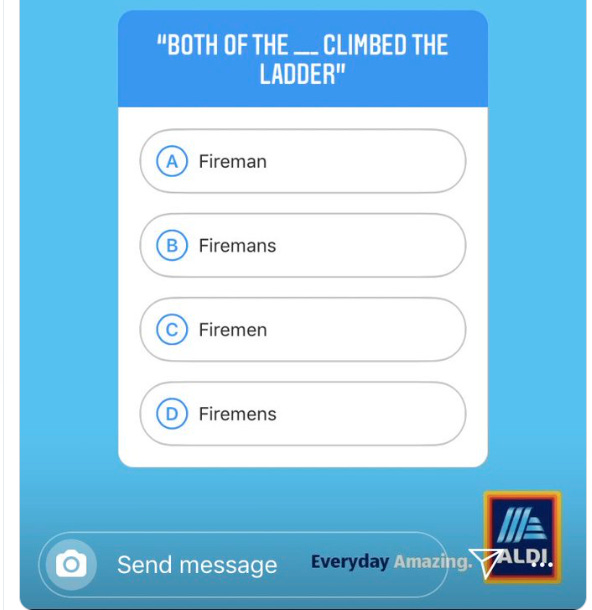 With thanks to Kate Johnson for spotting this.
 
Gender data gap of the week
This one would be funny if it weren't so awful. From the paper abstract: 
Depression is an important risk factor for Alzheimer's disease (AD) but little is known about the mechanisms of this association. Given sex differences in both AD and depression, we sought to conduct a systematic review and meta-analysis to examine whether there are sex differences in their association, as this may improve understanding of underlying mechanisms.
This could have been a really important paper. As with many conditions that affect primarily women, Alzheimer's is still poorly understood. We don't fully understand why women are more likely to develop the disease, an issue that is probably not helped by the fact that research into this feminised disease is still conducted almost exclusively in male mice. 

But it wasn't to be. Out of the 40 studies that were identified, only 7 studies provided sexed data and only 3 studies provided enough data anyway.  

TL;DR A group of researchers set out to do some sex-based analysis for a serious condition that affects women more than men but because no one has bothered to do sex based analysis before, they were able to conclude nothing.

Final word to the study authors: "We encourage researchers to report these data, as well as potential moderating factors, so that the role of sex differences can be better understood."

Win of the Week

Sticking with Alzheimer's, Jack Rivers-Auty, a scientist at the University of Manchester who works, among other things, on Alzheimer's, tweeted me about white men being coded as the baseline (1) in clinical datasets, with women and People of Colour being coded as effects.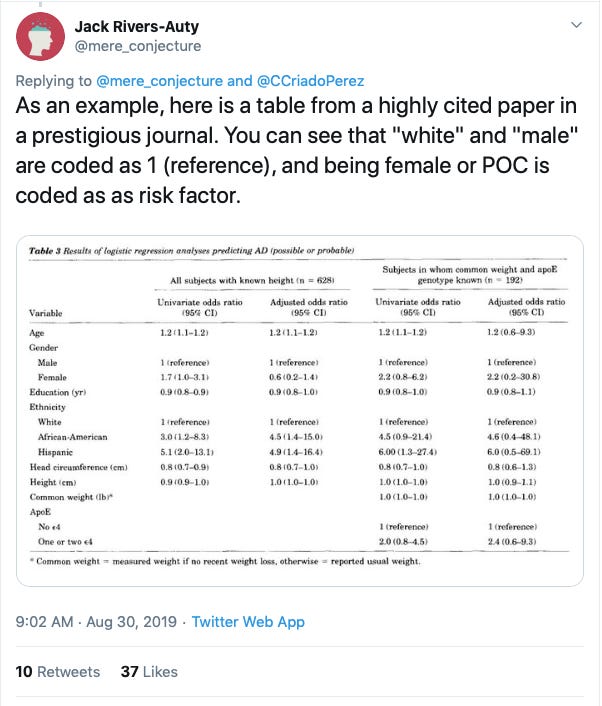 To make matters worse...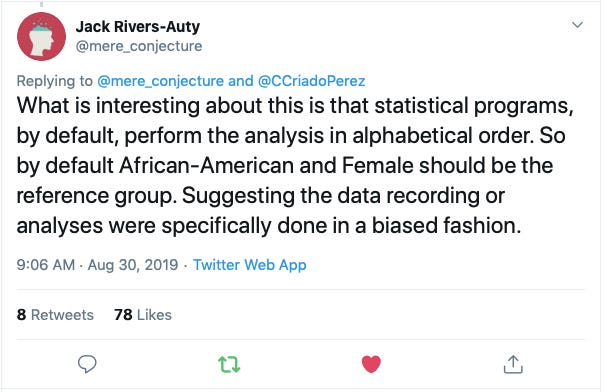 Yes I know this doesn't seem like a win, but stick with me, because Jack had read Invisible Women, and so he knew that "female" isn't an effect. And so he fixed it -- while incidentally answering the question from Issue 1 of are men reading the book? Wins all round 🎉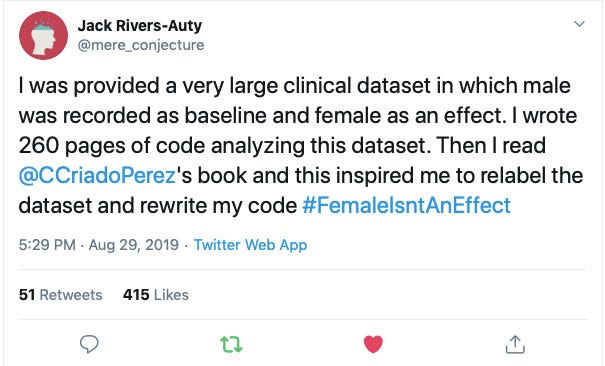 Toilet Queue of the Week: Luton Airport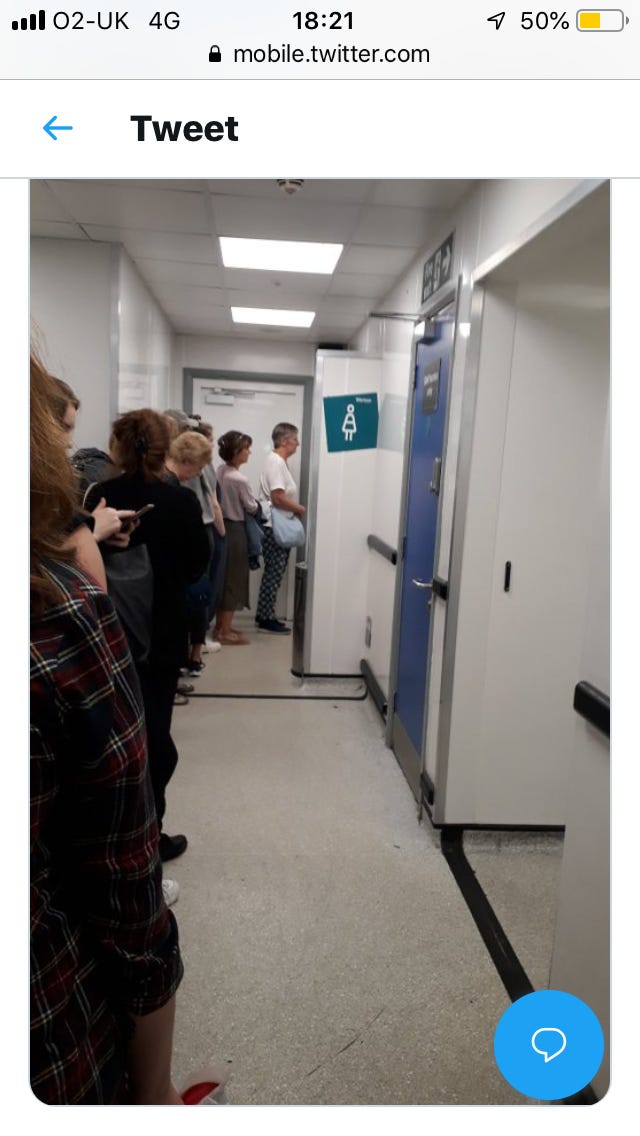 Thanks to Dr Trish O'Flynn for this week's TQOTW which really pissed me off, because I have personally experienced their ridiculous queues, AND tweeted them about it. Which means I have also personally experienced their infuriating rote response pointing women to another toilet in the vicinity.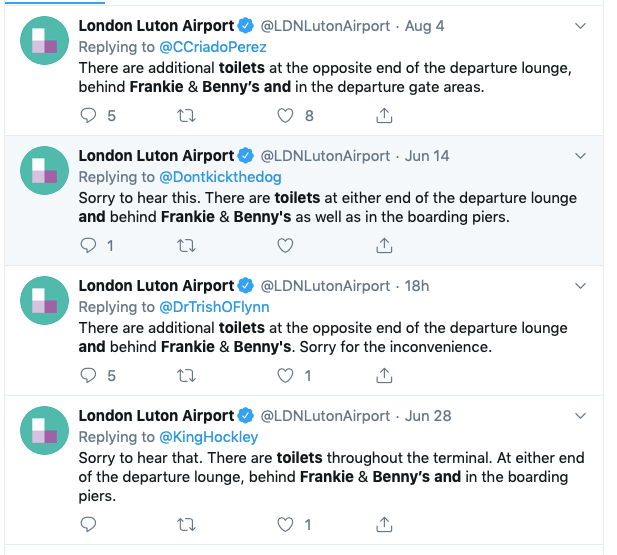 Now I can't be sure that Dr O'Flynn had checked the other queues, but I certainly had, & I suspect most women do because, newsflash, Luton airport, women aren't queueing for fun.

Anyway, I was all riled up so I thought I'd find out who I could make this a problem for since, infuriating as their social media team is, this situation isn't entirely their fault. And look what I found: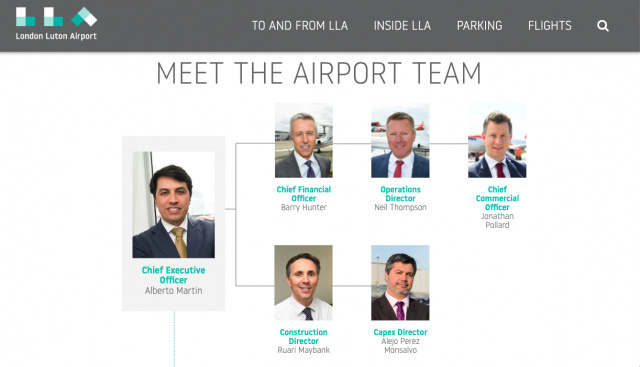 ...suddenly Luton's total failure to do anything about their totally inadequate toilet provision for women starts to make sense. But we're not going to let them get away with treating their female customers with such derision, are we? No we are not. Click here to email Luton's CEO, Alberto Martin, to ask him what he intends to do about the inadequate female toilet provision at his airport.
 
Bonus Toilet Content
Still, this cheered me up...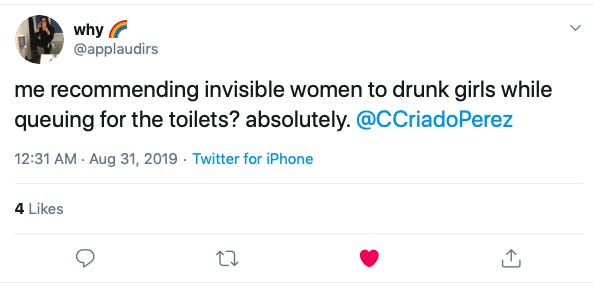 One more link...
An Australian radio interview I recorded at 7am one morning last week. Bonus points for spotting when the caffeine ran out.
That's it!
As I would love to hear from you, but don't hit reply to this email as I won't be checking this account because of the inevitable abuse I'll get alongside your messages. So if you want to send me any thoughts, or to submit any stories etc for a future newsletter, either tweet me @CCriadoPerez, or email mail@wylieagency.co.uk and it will get forwarded to me (abuse will not get forwarded so please don't send pointless abuse to the lovely people at the Wylie reception, ta).