Data in a Time of Corona: Invisible Women Newsletter Resurrected
My dear GFPs, I can only apologise for being silent for so long! I took a break over Christmas and New Year, fully intending to get back on it...and then Invisible Women starting coming out all over the world. Spain. France. Germany. Hungary. The poor Italian translation came out in the middle of their descent into lockdown, so it didn't feel quite right to tweet much about it, but in any case, they were all accompanied by a flurry of publicity. And then it was the run-up to International Women's Day, and the run-up to the paperback coming out and I was just run off my feet with events coming out of my ears and then....well, now here I am emailing again, because suddenly I have all that time I've been begging for for all these months. I'll be honest: it wasn't quite what I imagined. But still, I have been feeling guilty about my failure to send a newsletter for about five months, so silver linings and all that.

This first newsletter I am going to talk a bit about the obvious. But on the whole I'm going to try to keep this newsletter as pandemic-free as possible. I don't know about the rest of you, but I have been really struggling with the all-covid19-all-the-time media -- both the social and the news variety. I'm desperate for a bit of non-corona-related content. So here I am hopefully producing some. After this week, I mean. Like all good diets, I fully intend to start tomorrow. Honest.



Gender Data Gap of the Week

The thing is about pandemics, or any crisis really, is that it tends to prompt people to think "oh ffs we don't have TIME for all this bloody gender stuff DON'T YOU KNOW THERE'S A WAR ON, BLOODY SNOWFLAKES etc etc etc." (For those who doubt this is how people react, check out the replies to this tweet from Amber Rudd.)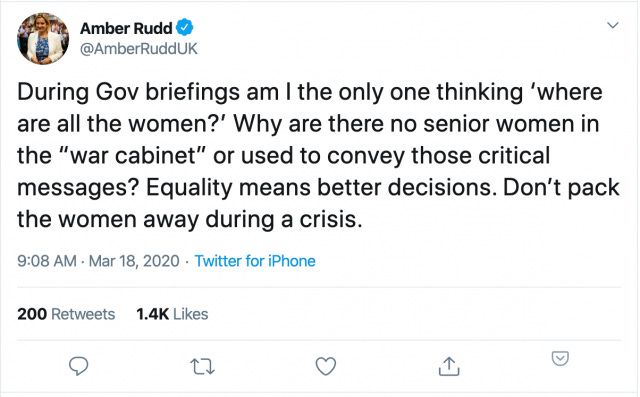 But while this attitude may feel intuitively understandable, it is not supported by the data. Because it is actually when things are at their worst that we need to think about gender the most. Any crisis situation will always magnify existing inequalities. 

For example, a failure to include women in decision-making during the 2015-2017 outbreak of Zika virus resulted in advice that women prevent pregnancy and avoid mosquito bites if pregnant (Zika's main danger is severe birth defects), without addressing all the social and structural issues that make them incapable of doing so, namely: the criminalisation of abortion and lack of access to contraceptive services, and the inadequate provision of water and sanitation services given women's traditional responsibility for water collection and storage. The upshot was that low-income women in particular (richer women are more able to travel abroad for reproductive services) were unable to protect themselves or their babies from the virus, and ended up adding palliative care to their already over-burdened shoulders. The situation was not helped by the fact that in many cases these women were abandoned by their partner after their baby was diagnosed.

The fact that women continue to give birth even "when there's a war on," even if a pandemic hits, is one of the most dangerous examples of government failures to provide gender sensitive responses to a crisis. As I wrote in Invisible Women:

Sierra Leone, the country at the heart of the 2014 Ebola outbreak [...] has the highest maternal mortality rate in the world: 1,360 mothers die per every 100,00 live births (for comparison, the OECD average is fourteen per 100,000), and one in seventeen mothers have a lifetime risk of death associated to childbirth. The government has recently released data revealing that at least 240 pregnant women die every month in Sierra Leone.

But despite the already high rates of maternal mortality, during the Ebola outbreak development agencies and governments across West Africa diverted their reproductive health support to fighting the epidemic. An already shocking level of maternal mortality increased by a staggering 75%.

But it wasn't just the childbirth that killed them. It was also the intransigence of governments, pharmaceutical companies, and, ultimately, insurers, who repeatedly refused pregnant and lactating women access to effective vaccines and antiviral drugs because....they had not been tested in pregnant or lactating women. Because pregnant and lactating women had not been allowed to take part in trials. This despite Ebola being a disease that resulted in a c.93% death rate for pregnant women. Those women who did survive Ebola had a miscarriage rate of essentially 100%, and not a single mother-baby pair infected with Ebola survived the outbreak. Only one baby of an Ebola-infected mother survived the 2014 outbreak, as a result of being given experimental drugs immediately after birth outside of a clinical trial; the mother was denied such access, and died shortly after giving birth to her baby. By the way, some pregnant women were accidentally given vaccines during the outbreak. They and their babies all survived, seemingly without complications. And yet in the next outbreak, pregnant women were once again routinely excluded from trials and from receiving treatment.

It's not just pregnant women, either. Women in general are on the frontlines when a pandemic hits, being most likely to provide both informal unpaid care, and formal care:
Women's caretaking responsibilities also have more deadly consequences for women in pandemics. Women do the majority of care for the sick at home. They also make up the majority of 'traditional birth attendants, nurses and the cleaners and laundry workers in hospitals, where there is risk of exposure', particularly given these kinds of workers 'do not get the same support and protection as doctors, who are predominantly men'. Women are also those who prepare a body for a funeral, and traditional funeral rites lead many to be infected. In Liberia, during the 2014 Ebola epidemic, women were estimated to make up 75% of those who died from the disease; in Sierra Leone, the 'epicentre' of the outbreak, UNICEF estimated that up to 60% of those who died were women. (IW, p.299) 
There is no evidence to suggest that the substantially higher female death rate was because women were biologically more susceptible to Ebola. It was because they were more exposed. And while men are currently dying at a slightly higher rate than women from Covid-19, there is no reason to think that women's exposure rates won't ultimately be far higher -- unless, that is, we start incorporating a gender analysis into our response now.

And as an added inducement, the reluctance to account for gender when disaster hits doesn't only affect women. As I wrote in Invisible Women:
Failing to account for gender during the 2009 H1N1 (swine flu virus) outbreaks meant that 'government officials tended to deal with men because they were thought to be the owners of farms, despite the fact that women often did the majority of work with animals on backyard farms'. During the 2014 Ebola outbreak in Sierra Leone, 'initial quarantine plans ensured that women received food supplies, but did not account for water or fuel'. In Sierra Leone and other developing countries, fetching fuel and water is the job of women (and of course fuel and water are necessities of life), so until the plans were adjusted, 'women continued to leave their houses to fetch firewood, which drove a risk of spreading infection'.
OK, but why are men dying in higher numbers from Covid-19?

The truth is, we just don't know. The two major theories circulating right now are men's much higher likelihood of smoking in China (62% of men versus 3% of women), and the female immune system. We don't exactly know why the female immune system is so super-charged (that data gap 🤪) but the theory is that it's down to women being the child-bearing sex (IW, p.199). But, men, before you get too jealous of us and our virus-fighting female bodies, bear in mind that our immune system also means that women make up 80% of those affected by autoimmune diseases, and that we develop more frequent and more severe adverse reactions to those vaccines we aren't allowed to receive. Swings and roundabouts, eh?
******************************** #NotAllBoomers....but definitely this fucking one

Yesterday, following yet another fruitless discussion with my 74-year-old mother about why she could maybe hold off on getting her hair cut and her legs waxed, I sent the following tweet:



As you can see...



👀
...it struck something of a chord.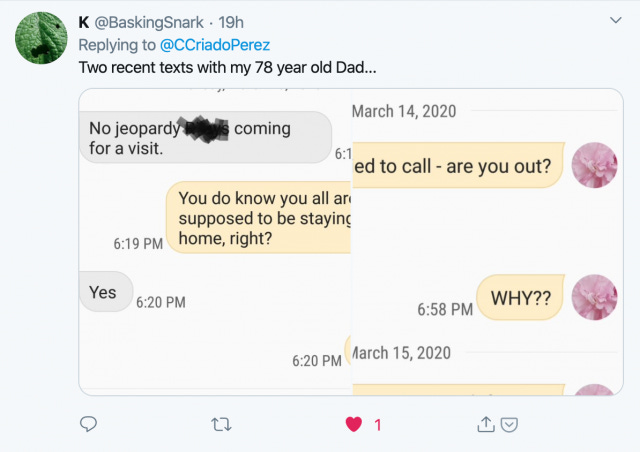 Some parents are coming up with creative solutions to this generational role-reversal...


The definition of pre-existing conditions seems to to differ by generation...


...as does the definition ofself-isolating...







Mums are refusing to let themselves go...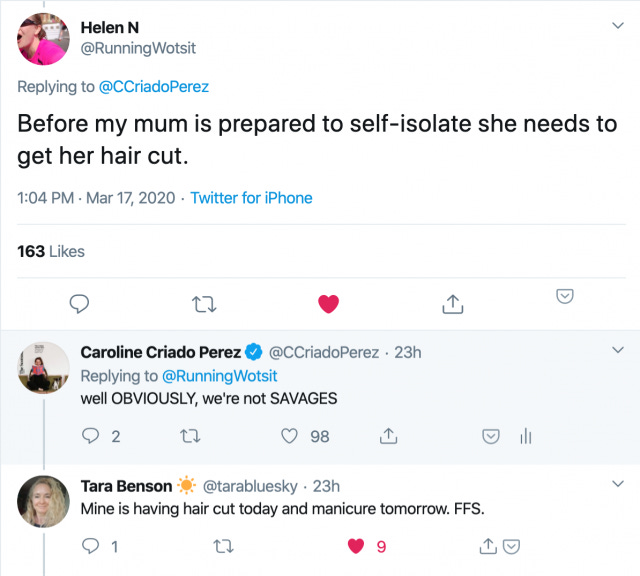 And so are dads...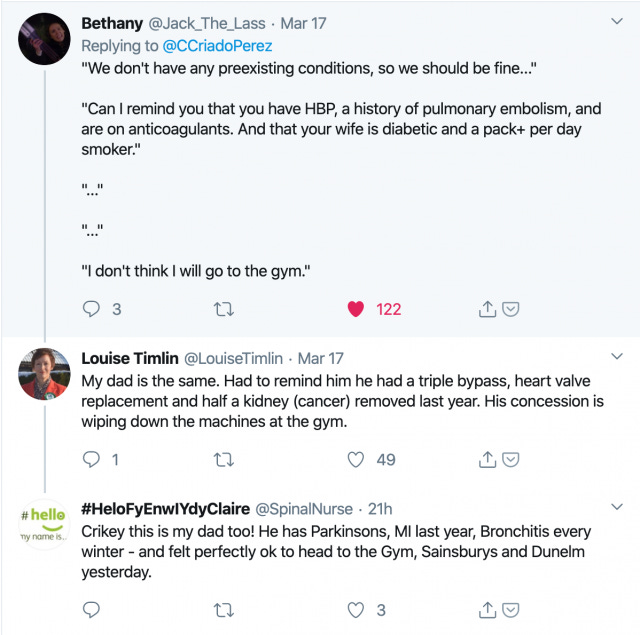 And so kids are planning on getting tough...



...some more extreme than others






Desperate times call for desperate measures...



And some seem to have worked...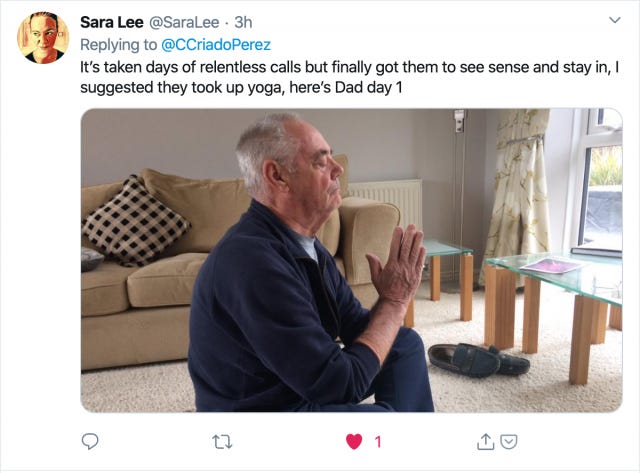 ...meanwhile, my mother remains unrepentant.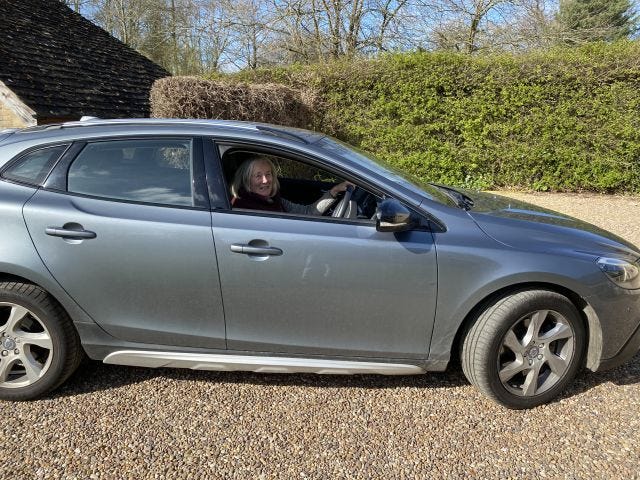 #MumShaming
(My mum insists that I add that ACTUALLY she just got back from Yemen, where she has been working for 5 months with MSF. I fail to see why this is relevant to her insistence on going for a haircut in the middle of a pandemic)

Default Male of the Week

The vast majority of nurses in China (and globally) are women -- and yet their Personal Protective Equipment has not been designed to account for their bodies. This is not unusual. From Invisible Women:
"...most PPE is based on the sizes and characteristics of male populations from Europe and the US [...] A 2009 survey by the Women's Engineering Society found 74% of PPE was designed for men. A 2016 Prospect Union survey of women working in sectors ranging from the emergency services, to construction, via the energy industry, found that just 29% wore PPE designed for women, while a 2016 TUC report found that 'less than 10% of women working in the energy sector and just 17% in construction currently wear PPE designed for women'. One rail-industry worker summed it up: 'Size small is a) a rarity, b) men's small only.' 

This 'unisex approach' to PPE can lead to 'significant problems', cautions the TUC. Differences in chests, hips and thighs can affect the way the straps fit on safety harnesses. The use of a 'standard' US male face shape for dust, hazard and eye masks means they don't fit most women (as well as a lot of black and minority ethnic men). [...]

This isn't just about comfort. Ill-fitting PPE hampers women's work – and can, ironically, sometimes itself be a safety hazard. [...] Of those surveyed for the 2016 Prospect survey, 57% reported that their PPE 'sometimes or significantly hampered their work'; over 60% said the same in the Women's Engineering Society survey. [...] A 2017 TUC report found that the problem with ill-fitting PPE was worst in the emergency services, where only 5% of women said that their PPE never hampered their work."
In this instance, the issue is periods. It's one thing to restrict your food and drink so you don't need to go to the toilet during your shift, but periods cannot be shut on and off. And yet when female workers asked their supervisors to provide them with period underwear, they were dismissed. "The government does not regard menstrual products as essential supplies in a crisis," explained one woman involved in a campaign to send period underwear to the women at the frontlines of the coronavirus pandemic. Meanwhile, many workers have started taking birth control hormones in order to stop having a period altogether. 
******************A message from my publisher!***************

INVISIBLE WOMEN IS A NUMBER 1 BESTSELLER! Woohoo!
It's Waterstones Non-Fiction Book of the Month throughout March. Head to Waterstones.com to stock up – and get a £2 discount: https://www.waterstones.com/book/invisible-women/caroline-criado-perez/9781784706289

And just in general, in this really unpleasant and uncertain time, it matters more than ever that you support your local brick and mortar shops. The big online giants will be ok; for everyone else, this is a really frightening time. And if we want our IRL bookshops to still exist when we all emerge from quarantine, make sure you help them stay alive now.
 
Invisible Women x Tatty Devine
To celebrate paperback publication, Vintage Books teamed up with Tatty Devine to create… an Invisible Women necklace! They're available to order now for £30 at https://www.tattydevine.com/products/invisible-woman-necklace. £3 of every sale will be donated to the Fawcett Society.

And finally! My new favourite website! 
Since Invisible Women was published a year ago, I've had so many responses from all of you about how it has changed your outlook, workplace, community, and even company and government policy. There's now an official place for you to share and celebrate the difference Invisible Women is making – it's been amazing to see the responses so far and we want more! So head to www.invisiblewomenbook.co.uk to leave your mark.
****************** Interruption from Publisher Ends ***************
 
Miscellaneous

For #IWD I wrote a piece for The Sunday Times about why it is that we still can't seem to get a handle on cars being so much more dangerous for women. As part of my research for the piece, I visited the Cellbond factory in Huntingdon -- the only manufacturer of car crash test dummies in the UK. While there, I took this picture.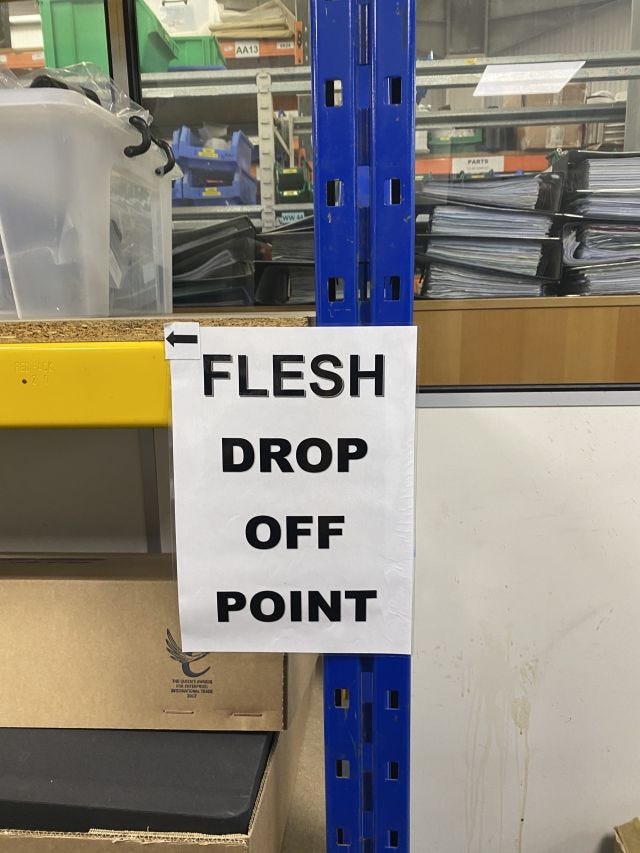 You're welcome.

Poppy pic of the Week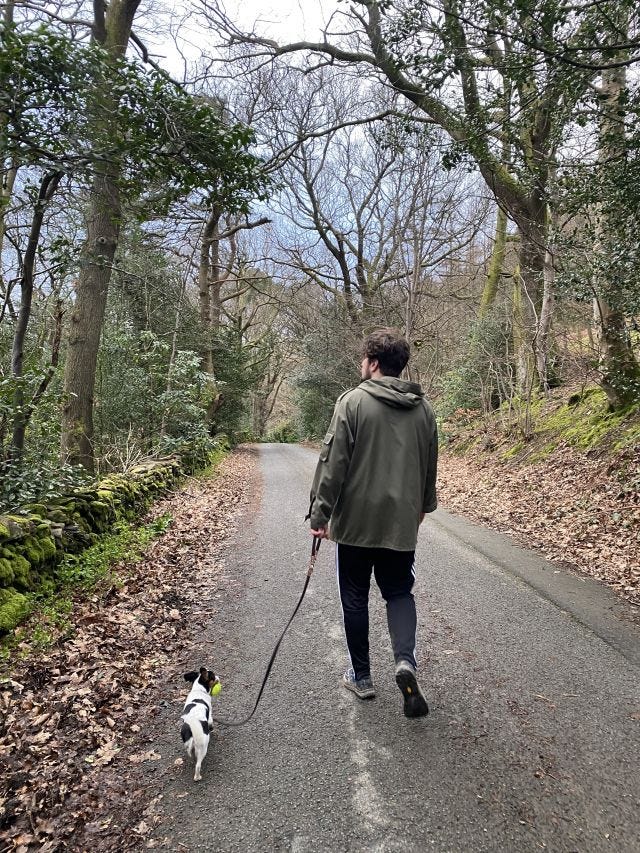 When you're heading off into quarantine it's imperative that you remember your beefcake and your ball.

*****
 
Until next time, GFPs! I promise it won't be as long before the next newsletter xoxoxo