Invisible Women Issue 1: DeepLadyBrain
Hello there my generic female pal and thank you for subscribing to the VERY FIRST EDITION of Invisible Women: The Newsletter!

There are a few questions that I've been asked repeatedly in the six months since Invisible Women came out. "What was the worst example of the gender data gap you came across?" is a common favourite. "How do we get men to read it / are any men reading it?" is another. But probably the most common one is, "How are you not furious ALL THE TIME?" 

I'll get to the other two questions, but to answer the final question first: it's because of all of you. Don't get me wrong, I'm still furious a lot of the time, but I spent three years writing the book in a state of permanent rage, with no outlet. I felt alone and isolated with this explosive knowledge. I knew that what I was writing was important -- too often life or death important. But I also knew that there was a chance I wouldn't be believed. After all, I'm not a scientist. And I'm a woman. A woman writing about sex and gender. I knew -- and my research confirmed this -- that all this meant I was up against some in-built assumptions that would make me a far less credible witness than, say, a white male psychology professor to just pluck one example out of nowhere.




And that knowledge, that permanent anxiety, on top of the facts I was uncovering, that I wouldn't be able to do those facts justice, made me furious. All the time.

But then the book came out. And there you all were. An army of very visible women (and yes some men). And not only did you tell me that the world suddenly made sense to you, that you felt seen. You started sharing your own stories. You started telling them to me, to other people, to strangers in queues for the toilet. 

And I stopped being so angry. I stopped feeling so powerless, alone at the top of my mountain of gaps. I felt like I was witnessing the birth of a movement.

But I also started feeling a bit anxious again. Here I was, in the privileged position of being sent personal stories, research papers, engineering solutions, concrete changes that were being implemented as a result of someone having read *my* book. Plus more toilet queues than I knew what to do with. And I knew that these were all important. That something needed to be done with them. But what?

This newsletter is my answer to that question. Some of the stories are lost to the twitter ether, sent to me too long ago to be recovered. But I saved many of them, along with articles and books I've been meaning to read. And now I'm going to share them with you. I will try not to overload you. Just a smattering of links and thoughts probably once a week. They won't all be new, because I've been storing them up for months. But they will all be interesting (to me at least).

There will probably be teething problems as I figure out how to do this thing -- changes in structure, changes in frequency. But I hope it will be worth sticking with. Because watching this all grow over the past six months has been a staggering and amazing thing to witness and to be part of.

I think we could be on the cusp of building something huge. And I'm looking forward to the ride.
 
---

Since I've burdened you with such a long and painfully earnest introduction, I'm going to keep the rest of this newsletter fairly short and sweet.
 
Male default of the week
A Lancet paper published this week found that the standard dosage of heart failure medications is 50% too high for women. All the extra 50% does is increase side effects. This is hardly surprising, given the vast majority of clinical trials into heart disease medication have been...in men. This story is one for fans of how Viagra was discovered (IW, pp.230-1). 
Gender data gap of the week
I enjoyed this piece in MIT Technology Review, entitled "DeepMind's algorithm can predict serious kidney injury 48 hours before it happens." Except, despite being illustrated with a picture of a pretty blonde woman hooked up to what looks like a dialysis machine, the algorithm was trained on a 94% male data set. So DeepMind's algorithm can in fact predict serious kidney injury in men 48 hours before it happens. When it comes to women, well. 🤷‍♀️. 

By the way, women are more likely than men to have chronic kidney disease and women on dialysis have a higher hospitalisation rate than men. I'm sure DeepLadyBrain is coming any time now.
Win of the week
My very first newsletter and I'm already breaking the rules, but this week's win of the week is not, in my humble opinion, in fact a win. Lots of people sent me links to the news, announced this week, that World Rugby has abolished gender. Sort of. 

From The Guardian's report:
World Rugby has rebranded its men's and women's World Cups in an effort to achieve gender neutrality in the sport. The competitions will now be referred to simply as Rugby World Cups with gender no longer included in their titles in a move that World Rugby has heralded as "the ultimate statement in equality".
Except that's not what's happened is it. Because the men's World Cup was never called "The Men's World Cup," it was just called the World Cup. And it still is. So all that's happened here is that women have been rendered invisible.

I hate to gripe, because I know the intentions here were good. But the truth is that all the research shows that we perceive gender neutral as male (see IW pp.i-411), a bias that you can multiply about a hundred-fold* when it comes to sport. And because of this male default bias, the problem isn't that we mark the female. The problem is that we don't mark the male, thereby allowing it to occupy the gender neutral spot, and perpetuating the very problem this well-intentioned policy was presumably intended to address. 

*no I do not have data on this.
Win of the week Mk II
Since I cheated with my first win of the week, I'm going to cheer you all up with proof that men are indeed reading the book! With thanks to Kate Matheson for sharing.

 
Toilet queue of the week
For my very first toilet queue of the week -- drumroll please -- how could I honour anything other than perennial favourite, St Pancras Station, which appears in my mentions at least once a week. Feel free to tweet @StPancrasInt and tell them to sort it out!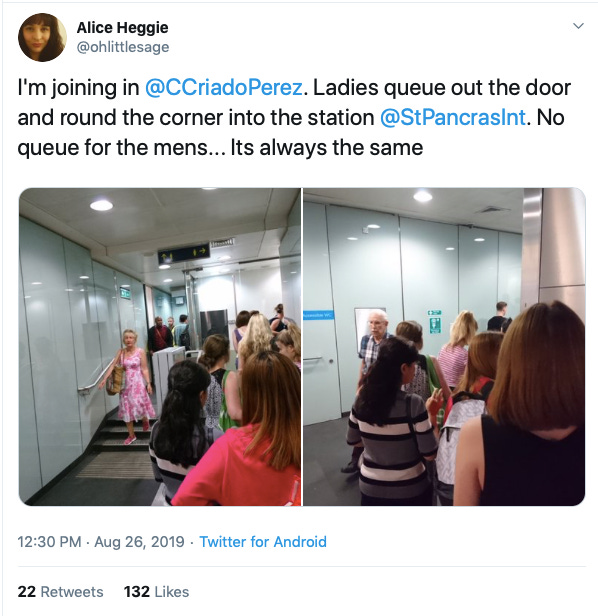 That's it!
I would love to hear from you, but don't hit reply to this email as I won't be checking this account because of the inevitable abuse I'll get alongside your messages. So if you want to send me any thoughts, or to submit any stories etc for a future newsletter, either tweet me @CCriadoPerez, or email mail@wylieagency.co.uk and it will get forwarded to me (abuse will not get forwarded so please don't send pointless abuse to the lovely people at the Wylie reception, ta).