Invisible Women Issue 10: Unisex Queues
GFPs, I regret to inform you that this week has been the week of toxic masculinity. How does that differ from every other week I hear you ask. Very good, you are well trained GFPs. Have a Default Female Gold Star.

But this week was different for me, because toxic masculinity ended up on my doorstep in the shape of my man (you remember him, the tame American Beefcake?). Anyway, he plays football -- yes the real kind -- and at his Sunday league match he got punched in the face. Because he won his match. They were doing the shaking hands after the match thing and the defender the AB had been up against just...socked him on the jaw. A number of hashtags occur, for example, #MasculinitySoFragile, because dear god imagine losing your shit over a sunday league game. Men (#notallmenbutenoughfuckingmen) please for the love of god get your house in order.

Anyway, then we went to see The Joker (look, the AB was upset so I let him pick the movie) and OH MY GOD THE TRAILERS. Historical Guns! Guns in Space! Inexplicably half clothed woman in an otherwise all male buddy movie! In which all the males are fully clothed! It was a) like taking a trip back to the 90s and b) a real eye opener to how the movie industry views men. And I guess c) a sign that the upcoming show (the cinema informed us that all the trailers had been *specially* selected to suit the film) was not really intended for the likes of me.

Well sucks to be you, Hollywood, because I actually enjoyed it. My only real gripe

[SPOILERS SPOILERS SPOILERS SPOILERS SPOILERS SPOILERS SPOILERS SPOILERS]

is that they loaded the decks too far in the direction of the mother simply being a delusional narcissist who stood by while her adopted son was abused, rather than a powerless working-class woman who was locked up in the Arkham Asylum by her erstwhile boss and lover once she became pregnant -- and inconvenient. Yes there was that flash of the mysterious photo that leaves room for doubt, but the interpretation to which we're driven by the narrative and weight of evidence is that...drum-roll please...it was the mother's fault. Of course I can't prove that most viewers will have interpreted it that way (although I'd LOVE someone to do an audience survey on this), but I bet they did. Here, for example, is Vanity Fair coming to that uncomplicated conclusion. 

It is this that leaves Joker open -- not entirely unfairly, I think -- to the accusations levelled against it of being an incel's charter. We do love to blame women -- mothers in particular -- for the bad behaviour of men. "Where was the mother in all this? What kind of mother produces such a son?" we ask, while ignoring the absence (literally in this film if you accept the Vanity Fair interpretation) of the father.  

[SPOILER ENDS]

And what a lost opportunity, in such a male-centric film, to explore another form of male violence: one historically ally visited upon women who stepped outside of gendered bounds, or who in some other way proved inconvenient for the men in their lives. 
Women were also admitted to private asylums on slender evidence, notably those who contravened expectations concerning their modesty, conduct, duties or behaviour or those who would not bend to their husbands' will, even when husbands were themselves making extraordinary demands that could be deemed crazy. The case of Hannah Mackenzie illuminates how mad-doctors, could become tools of husbands keen to control their 'difficult' wives. Peter Mackenzie sought to confine his wife after he attempted to make Hannah's niece, with whom he was having an adulterous affair, mistress of the household. Hannah fled when Dr Battie, a prominent mad-doctor, was brought to the house, but was tricked into returning and locked in her bedchamber, supervised by a female keeper and restrained in a straitjacket. Thereafter she was conveyed to Peter Day's Paddington madhouse. By attracting the attention of a boy working in the garden of the house next door, Hannah escaped after throwing down money and then her shoe – which she hoped, Cinderella-like, would identify her. Her friends were informed of her whereabouts and she was rescued from the asylum, with the help of John Sherratt, a lawyer and well-known campaigner against private madhouses.
In her paper, "Women and the Mental Deficiency Act of 1913: citizenship, sexuality and regulation" Jen Walmsley points to contemporary discussion around the passing of the Act focusing particularly on the "feeble-minded". That is, a new category of people who weren't seen as insane exactly, so much as degenerate: 
In 1904, a Royal Commission, the Radnor Commission, was appointed to investigate the care and control of the feeble‐minded. It reported in 1908, and concluded:

'Of the gravity of the present state of things there is no doubt. [Our investigations] compel the conclusion that there are numbers of mental defective persons whose training is neglected, over whom an insufficient control is exercised, and whose wayward and irresponsible lives are productive of crime and misery, of much injury to themselves and colleagues, and of much continuous expenditure wasteful to the community and to individual families.'

The Royal Commission's Report laid the groundwork for the passing of the Act, the first of its kind in the world, assisted by a vigorous campaign conducted by the Eugenics Education Society and the National Association for Promoting the Welfare of the Feeble‐Minded. Significantly, it was women who were singled out in parliamentary debates as posing the greatest threat: largely because of the perception that illegitimacy and a rising birth rate amongst the lower classes were both attributable to feeble‐minded women. In this context, the sexual regulation of young women became of paramount importance.
The number of women who were actually incarcerated in asylums purely for having had sex and got pregnant outside of marriage is unclear, but what is not disputed is that this did happen, and there is a good case to be made for asylums being used by men as a way to control "unruly" women who had little right to contest or appeal. You could say it was the 19th and 20th century answer to the scold's bridle. And what's the 21st century's answer? Twitter*, of course!

*other toxic-to-women social media platforms are available. 
 
---
Gender data gap of the week
On to business. Readers of Invisible Women will remember the story of how viagra was discovered by accident in an -- naturally -- all-male drug trial for heart disease medication. They will also remember how, after an encouraging small-scale trial that suggested viagra could be a possible solution for period pain, a researcher, Dr Legro, was turned down for funding twice by the US National Institute of Health. apparently on the basis that period pain is not a public health priority. (IW pp.230-31)

Well now a new potential use has been found for viagra: helping women avoid emergency caesareans.
In a pilot trial, doctors gave the drug or a placebo to 300 Australian full-term pregnant women in labour and found the medication:

halved the rate of women needing an emergency caesarean

halved the use of forceps in delivering babies

cut the time spent in the later stages of labour by half

Sean Seeho, from the Royal Australian and New Zealand College of Obstetricians and Gynaecologists, said one in four emergency caesareans were needed because the baby was in distress.

"So if this does prove to be beneficial and reduce foetal distress in labour, then certainly this would be a very effective way to reduce caesarean sections," Dr Seeho said.
The researchers have applied for more funding to confirm their findings. Let's hope they have more luck than Dr Legro, or Dr Susan Wray, who, as I wrote about in Invisible Women, similarly managed to achieve a dramatic reduction in the number of women who had to have an emergency caesarean -- but was turned down for funding on the basis that her research was "not a high enough priority." FYI 830 women die every day due to complications in pregnancy and childbirth.
---
Default Male of the week

This newly renovated fine arts library that excludes anyone wearing a dress or heels, or just anyone who doesn't fancy looking up and catching an eyeful.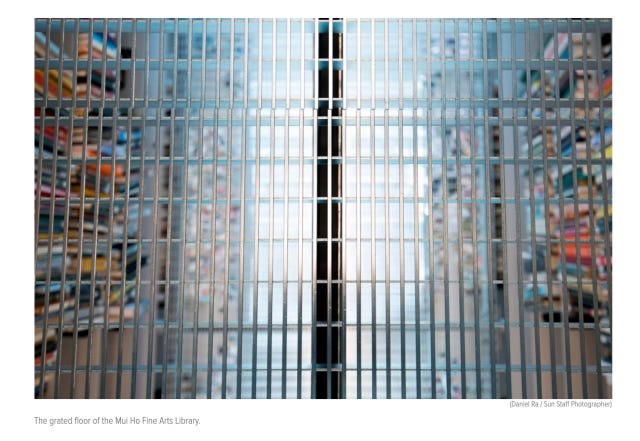 In response to criticisms that his design of see-through floor upon see-through floor upon see-through floor was not welcoming to all users of the library (and it's not just women, by the way, it's also not ideal for anyone who needs to use a cane, or anyone who would struggle with the noise of carts rolling over metal floors, which don't dampen any sound. So that's everyone in a library, then, although obviously autistic people specifically) the architect Wolfgang Tschapeller said that addressing the obvious up-skirting issue would "literally destroy the project." The "flow of space," he said, is "essential." His solution? Don't look up.
Mr Tschapeller reminds me a bit of the voice recognition software supplier who made an appearance in Invisible Women suggesting that women undergo lengthy training to fix the 'many issues with women's voices,' rather than, you know, fixing the many issues with his software that doesn't recognise the voices of half the population.  
---
Taking the Piss of the Week
Well, GFPs, I did it. I went to The Old Vic. And, as expected, it was mayhem at the loos. People, including children (we went to see A Christmas Carol) everywhere looking confused about which loo to use. One kid was stood between the two toilets looking right to left with no idea which to go into. And of course there were queues out the door for the cubicles only and none for the urinals plus urinals. I particularly enjoyed the moment where I joined a massive mixed-sex queue for the cubicles-only toilet, while the AB sauntered past to go into the urinals + cubicles toilet -- only for a whole bunch of men to decamp from the cubicles queue and follow him, clearly not having realised that unisex loos didn't mean unisex queues. So clearly that's working well.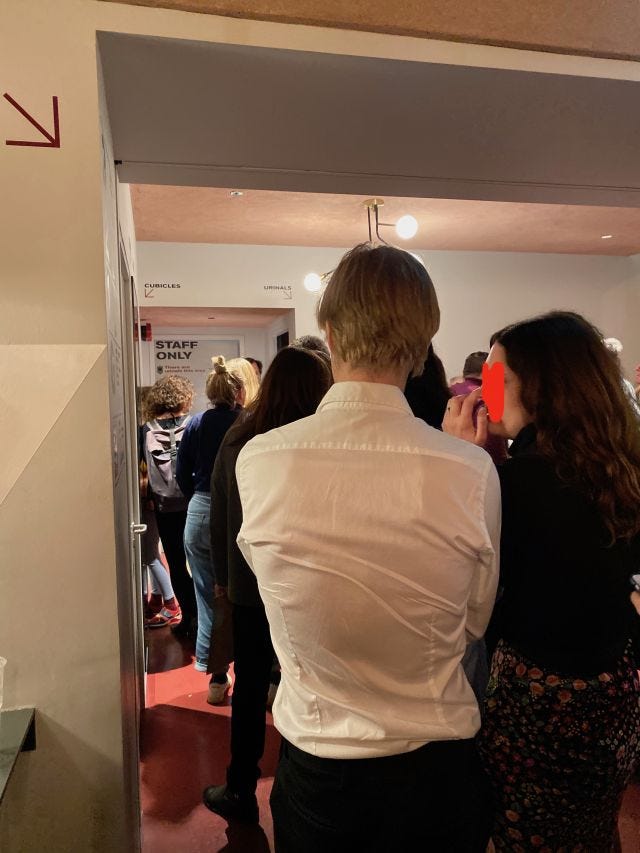 The AB reports that the men in the toilet were all complaining about the "fucking toilet situation." If anyone were to want to use the cubicles in that toilet they would have to walk past an open urinals area...so that's that toilet out for most women. Meanwhile, men were using the cubicles only: I bumped into a man as I went into the cubicles toilet upstairs. So effectively the cubicles-only toilets are unisex and the urinals + cubicles are men-only. And women are queueing (I heard several women complaining about the queues) while men, on the whole, are not. As in fact we said would happen from the beginning. Slow clap for the Old Vic management.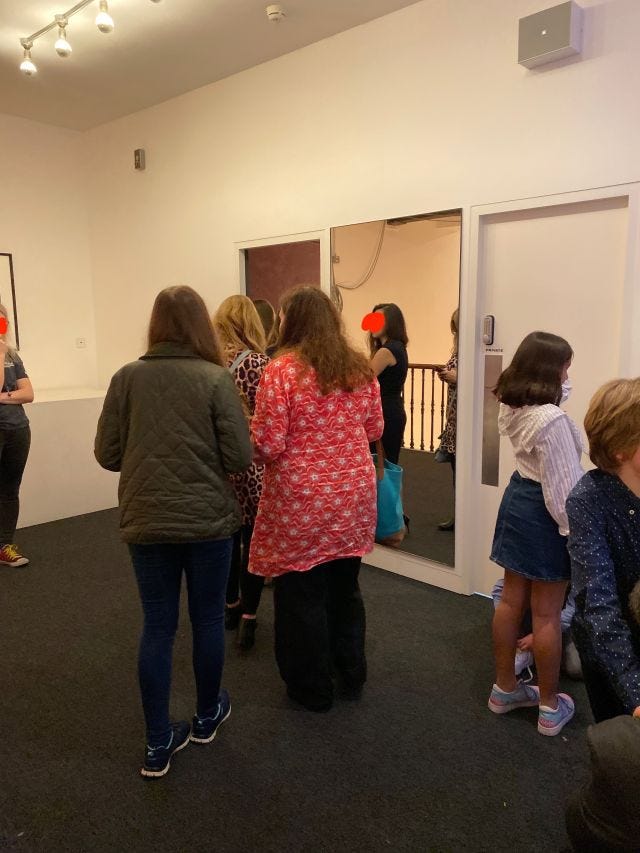 ---
Poppy Pic of the Week

Here she is looking ridiculously cute on my lap at We Are Tech Women.
 

Byeeeee!! xoxoxo