Invisible Women Issue 3: Sexist Fossils & Sexy Orthopaedics
Hello my awesome GFPs (new subscribers see the archive for what this means!) and welcome to Issue 3 of Invisible Women: The Newsletter!

This is a huge week for feminism, as Margaret Atwood's sequel to The Handmaid's Tale is finally released! Don't worry, no spoilers here, all I'll say is that you should definitely read it -- but before you do, reread The Handmaid's Tale as a quick refresher.

I was lucky enough to be asked to be part of Atwood's London launch. Here is what I said:
********
Thank you so much, Waterstones, for asking me to speak at this amazing event. I can't quite believe I'm up here on this stage — a stage I know Margaret Atwood herself will be on in a few hours time…
I expect some of you will know me as the woman who got Jane Austen on a banknote. Others will know me as the woman who got the first statue of a woman — Millicent Fawcett — in Parliament Square. Others will know me as the author of Invisible Women.
But what I think most of you won't know is that, for most of my life, I was not a feminist.
I didn't like feminism. I didn't need feminism, because women were equal now, weren't we. So if women weren't achieving as much as men today that was their own fault. They should work harder. Be better. Not rely on special pleading to make up for their own inadequacies.
Because inadequate is what I thought most women were. I fully bought into the stereotype: women are boring. They are uptight. They are jealous, hysterical, irrational. Superficial. Women are just…a bit crap. I mean that was what I saw in every magazine aimed at me, in every film — you know the ones where the man is trying to save the world and his nagging wife is telling him to put the bins out as if that's more important than saving the world (of course now I would point out that if he just put the fucking bins out in the first place she wouldn't need to nag him).
Anyway. I didn't identify with what society told me a woman was. But instead of questioning that story, I just believed that I was different. The greatest compliment you could pay me back then was "you're not like other girls, you're more like one of the guys."
And my greatest fear was that people — men — wouldn't recognise that. I feared that this female body I had developed would betray me, mark me out as one of them. Those boring, uptight, irrational beings I had nothing in common with. I actually remember being incredibly stressed every time I met someone new because here was another person I had to convince to treat me like a human being despite what they saw on my chest.
I was forced to confront my own internalised misogyny in my mid twenties. I went to university as a mature student and for the first time I actually had to read some feminist writing. The book that changed my life was not, I'm afraid, by Margaret Atwood, because it wasn't a novel. It was a linguistics book called Feminism and Linguistic Theory. Not quite the Handmaids Tale, but it was my lightbulb moment. It was the moment I started questioning everything.
The section that changed everything for me was about the generic male in grammar. So "he" to mean "he or she"; "man" to mean "humankind". I think like a lot of people who don't know much about feminism I did know that feminists objected to generic masculine pronouns. And also like a lot of people who don't know much about feminism I rolled my eyes and dismissed it out of hand.
I want to pause here to read you my favourite poem if that's ok (don't worry, it's short).
It's called MYTH, and it's by Muriel Rukeyser
Long afterward, Oedipus, old and blinded, walked the Roads.
He smelled a familiar smell.
It was the Sphinx
Oedipus said, "I want to ask one question.
Why didn't I recognize my mother?"
"You gave the wrong answer," said the Sphinx.
"But that was what made everything possible," said Oedipus.
"No," she said. When I asked, what walks on four legs in the morning,
Two at noon and three in the evening, you answered,
Man.
You didn't say anything about woman."
"When you say Man," said Oedipus,
"You include women too.
Everyone knows that."
She said, "That's what you think."
Anyway, I was like Oedipus (no not in THAT way). I thought that everyone knew man included women too. But it turns out that the Sphinx was right and Oedipus and I were wrong. Because while everyone may consciously know that these masculine words used generically "include women too," the reality is that studies show that when women hear or read these words, they picture a man.
I'd never heard that before, but reading it completely transformed my life. Because I realised for the first time that when I heard these words I was picturing men. And I wasn't picturing women. Even though I am a woman. And then I realised it wasn't just these words. It was also supposedly gender neutral words like professions — lawyer, doctor, journalist, writer, scientist, politician. I was completely shocked — not just that I was always picturing the opposite sex whenever a person's gender wasn't specified — but that I was 26 and somehow I had NEVER NOTICED THIS.
This realisation set off a chain reaction in my head. I wondered what else I hadn't noticed. What else I hadn't questioned.
I started thinking about the low opinion I had had of women for as long as I could remember, despite not actually knowing any women that fitted this dehumanised stereotype. Was this connected to the way my head was full of men?
It wasn't too long before I became angry. Really angry. I thought back over my eduction. The history I had been taught. The books I had been made to read. They were all by and about men. Was it any wonder that I had such an inferiority complex? Was it any wonder that I considered my sex an obstacle I had to get over to be able to achieve full humanity?
I channelled my rage into reading, and I started reading women. I had always chosen to read men before. I didn't think women writers were worth reading. They weren't intellectual and I wanted to be an intellectual.
And my god was it life changing. I started experiencing what I imagine male readers experience all the time when they read "the canon". That flash of recognition. Of, yes. That's exactly what it's like. That's exactly what it feels like. That's how I experience the world.
This flash, this THUD of recognition in your stomach is one of the reasons I love reading Atwood so much, who I discovered in this all-female-writer-reading binge which I've never really recovered from.
Whatever she writes, whatever the topic, I have yet to read a book of hers (and I've read pretty much all of them) that isn't suffused with stunningly precise flashes, just casually dropped as if they're nothing. I don't get that in books by men, no matter how brilliant they are. And that thud is magic. I wouldn't be without it.
Of course with Atwood it's often not just "yes that's exactly what it's like" so much as a horrified "holy shit that is chillingly, horrifyingly plausible." She takes us from where we are now to the logical, appalling conclusion.
And then of course the righteous rage descends. Because she just knows it. And you know it. And she makes you feel what you know in your bones.
Reading Atwood made me think about how I often felt I was missing something with some of the great male writers I'd read. Dickens, for example. Yes I can see he's hugely talented but I never really GOT him in my bones. And I thought that was a failing of mine. Of course now I realise it's because he can't write women for shit.
But that's women all over isn't it. Blaming ourselves for things not feeling quite right. It must be us, mustn't it? We, as Freud said in his famous lecture, "Femininity", are ourselves the problem.
As I mentioned at the start, I am the author of a book called Invisible Women: Exposing Data Bias in a World Designed for Men. It's about how the vast majority of data, everything from economic data to travel data to medical data, has been collected using men. Male bodies and male life experience.
And the result is that everything from the economy to the workplace to the cars we drive to the healthcare we receive, has been designed around an average man, as if he is an average human being. Of course, he is not, and the result is that women are suffering.
We are being inconvenienced. We are being injured, often seriously. And we are dying.
This book is my logical conclusion to that first realisation back at university that man doesn't include women too. I wrote this book for lots of reasons — like wanting the world to wake up to the fact that designing cars around male bodies leaves women 47% more likely to be seriously injured and 17% more likely to die if they're in a car crash.
But one of the most important reasons I wrote this book was to give women the experience I had had. That experience of thinking: oh fuck. The world suddenly makes sense. And this isn't my fault.
And that has been the overwhelming reaction from women: relief. We aren't wrong. The world just hasn't been designed for us.
I'm so angry that so many women have been feeling inadequate for so long. I'm so angry that *I* felt so inadequate for so long. I'm angry that we've built a world calculated to make women feel inadequate, by framing men as the gender neutral default universal human. In everything from car design, to medication, to the stories we tell ourselves — did you know for example that women occupy only 28% of speaking roles in Hollywood films?
But not in Margaret Atwood books. In Margaret Atwood books women are fully present, in all our human complexity. In the subtle cruelties girls are capable of in Cat's Eye, the contortions we put ourselves through on men's account in The Robber Bride, the connection between the brutalisation of the environment and the brutalisation of women in the Madadam trilogy - and of course the in hideous possibilities of the Handmaid's Tale, which are actualities for so many women - and which, with perfect timing for an imperfect world, she's now revisiting in The Testaments.
Telling these stories matters. Women's voices, women's perspectives, matter. Because, contrary to what the world tells us every day in a thousand big and small ways, women are not niche. Women are not atypical. Women are not outliers. We are half the world, and we will be treated as such.
***********
How is this related to data, you of course don't ask, because you have read Invisible Women (plus the last newsletter now i think about it), and therefore know perfectly well that,
Data is just another word for information, and information has many sources. Statistics are a kind of information, yes, but so is human experience. And so I will argue that when we are designing a world that is meant to work for everyone we need women in the room. If the people taking decisions that affect all of us are all white, able-bodied men (nine times out of ten from America), that too constitutes a data gap – in the same way that not collecting information on female bodies in medical research is a data gap. And as I will show, failing to include the perspective of women is a huge driver of an unintended male bias that attempts (often in good faith) to pass itself off as 'gender neutral'. This is what de Beauvoir meant when she said that men confuse their own point of view with the absolute truth. (IW, p.xiii)
Representation is not only a feminist issue, it is a data issue, my dear GFPs. Pass it on.
 
And with that in mind, a quick UK-based plug, with apologies to international readers
The Parliament Project is a non-partisan, UK-wide initiative that provides practical support for women who are considering running for office. They just organised a takeover of the Scottish Parliament, attended by 400 women -- some who had never even voted before.

They run workshops all over the UK, so follow them on twitter and/or sign up to their newsletter to hear about the next workshop near you. 



No, don't carry on scrolling down. I SEE YOU.

Go back up. CLICK. DO IT. Because god knows we need more women to help us out of the current clusterfuck that is UK politics.
 
Atwood Chaser
In Atwood's dystopia, Handmaids act as enslaved surrogates for high-ranking wives. "I cannot avoid seeing, now, the small tattoo on my ankle," writes Offred. "Four digits and an eye, a passport in reverse...  I am a national resource." Here in Britain, it is illegal to pay surrogate mothers, to stop poor women being exploited as a "resource" by rich couples. The Law Commission is currently reviewing these rules. It is made up of four men. 
In this forensic essay, Helen Lewis reminds us of just how chillingly close we remain to Atwood's dystopia, and how all too easily this could become our reality -- as indeed it already is for some women. Read it, not to depress yourself, but to arm yourself with the facts. You need them.

Incidentally, Helen also writes a newsletter and it's one of my favourites -- in fact it was her consistently thoughtful newsletter that inspired me to start this one. 
 
Male default of the week
Fossils are sexist! No, really.

An analysis of the fossil collections of museums in Europe and North America revealed that the majority of mammoth, Pleistocene bison and Pleistocene brown bear fossils are male. The authors also found that in the collections of several museums, including the Natural History Museum in London and the American Natural History Museum, male specimens outnumbered female specimens across most ancient and modern mammalian orders. "This finding," wrote the paper authors, "has major implications for a wide range of studies of fossil and museum material."

No shit, Anning.
 
Bonus male default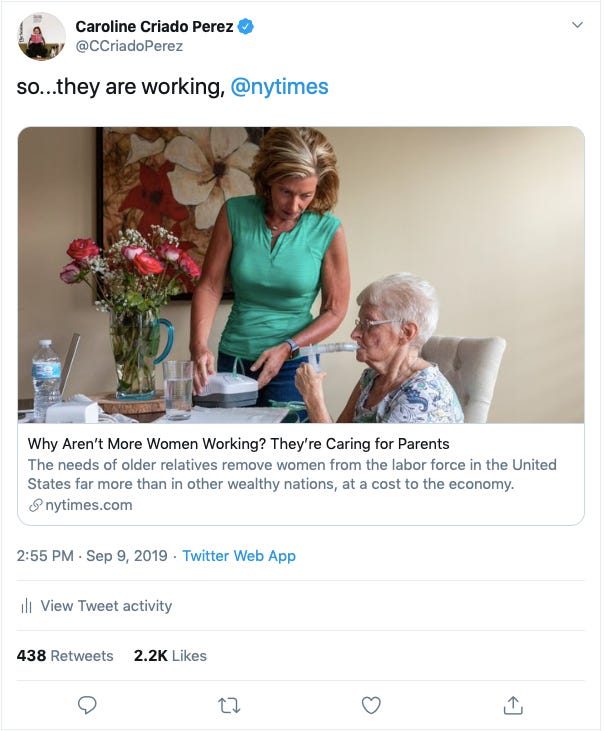 Self-explanatory.
 
Inexplicable sexist bullshit of the week -- an occasional series
A few days ago I was alerted by Kate Ahmed, a neurologist based in Sydney, of the existence of a textbook called "Advanced Examination Techniques in Orthopaedics" published by Cambridge University Press. Published in 2003, it is the required textbook for orthopaedics at at least one Australian med school. Here are some of the illustrations. 


...
...
...those are all men's hands right? Why are they all men's hands?
...

No I haven't got a fucking clue either. 

Anyway, Cambridge University Press fairly quickly issued a statement about their soft porn textbook, in which they told us that while they "accept that some of the images are still out of place," we were basically a bunch of prudes who didn't understand diagnostics. "To demonstrate examination techniques" they patiently explained, "the reader needs to be able to see skin, muscles and bony features."

Well, I feel stupid now. When they put it like that it's obvious you can't properly examine an elbow unless you can see the sexy patient's nipples.

Anyway, they added, they have a new edition coming out and it's MUCH BETTER.


I don't know about you, but I feel much better about the whole thing.
 
Gender data gap of the week
As readers of Invisible Women will know, although heart disease is usually seen as a male thing, this is a dangerous misconception. Here are some facts:
Heart disease is the number one killer of women in the US; in the UK it is second only to Alzheimer's.

Women from lower socio-economic backgrounds are 25% more likely to suffer a heart attack than men in the same income bracket. 

Women are 50% more likely to misdiagnosed if they have a heart attack than men, and, perhaps unsurprisingly therefore, they are also more likely to die.

In 2016 the British Medical Journal reported that young women were almost twice as likely as men to die in hospital. 

In the same year, the American Heart Association also raised concerns about a number of risk-prediction models 'commonly used' in patients with acute coronary syndrome, because they were developed in patient populations that were at least two-thirds male.
So. Very much not a male thing.

But although this misconception is killing women, somehow it continues. And judging by two developments this week, it is set to potentially get much, much worse.

Things started well with an an article in The Scotsman headlined, "AI to predict heart attacks at least five years before they occur." The article was even -- joy! -- illustrated with a picture of a woman. 

Far be it from me to be a party-pooper (jk, being a party-pooper is literally my party trick), but I thought I'd have a look at the study this article was based on before popping any champagne corks. And...oh dear. The paper didn't mention sex at all, even though we know that "normal" diagnostic thresholds for certain biomarkers may be too high for women. Worse, the three studies the paper used were all dominated by male participants.

So, sure. This AI may well predict heart attacks at least five years before they occur -- in men. As for women? 🤷‍♀️ 

So far so standard: the vast majority of medical data is based on male bodies, and even when women are included, the results are rarely sex-disaggregated.

But what happens when this AI is unleashed on the public? An insight into a possible future comes courtesy of an NHS consultant who this week tested the triage chatbot on the Babylon health app. She found that a 59yr old female smoker who developed Sudden Onset Central Chest Pain & Nausea was diagnosed by the chatbot with a panic attack or anxiety. An identical male patient, with identical symptoms, was diagnosed with a heart attack.
And if that hasn't scared you enough, consider this: machine learning doesn't just reflect our biases. It amplifies them. And by a significant amount. One study found that an algorithm trained on an image dataset where pictures of cooking were over 33% more likely to involve women than men, connected pictures of kitchens with women 68% of the time. (IW, p.166) The paper also found that the higher the original bias, the stronger the amplification effect. Guess which sector has an extremely high male bias?

Well. That's probably enough death and destruction. Let's cheer ourselves up with a nice...
 
Toilet queue of the week!
I'm afraid that we're sticking with Luton this week, because their response to our emails last week did not meet with my approval. 

They told me that:
they recently increased toilet provision by 20% as part of their redevelopment work

they have installed signage at the entrance to the washrooms to show where other facilities can be found.
Of course, as you can imagine, this was a red rag to a bull. I replied as follows:

They have not replied. Meanwhile, they are still in my mentions: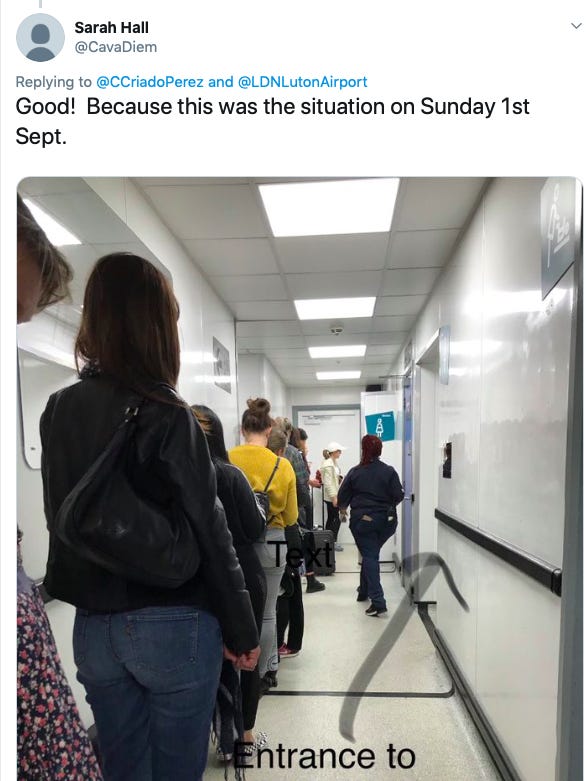 So, email campaign Mk II. This email is, it turns out, too long to do as a single click, so I'm afraid there will be some copy pasting involved.

Paste the following into the body of an email (feel free to change the wording):
  Dear Mr Martin,   Further to the email from last week, I do not consider this issue to have been satisfactorily resolved. 

In your email to Caroline Criado Perez, you stated the following:
1. You have increased the provision of toilets by 20% as part of your recent redevelopment works
2. When there are queues in some toilets, others have spare capacity so you have installed clearer signage
3. there is already a programme to invest in upgrading existing blocks and installing new ones, these are expected to be rolled out in the new year.

These are all welcome developments, however I note the following: 

— the men are not queueing so it's not 'toilets" per se that need more capacity, it's specifically the female toilets
— All the queues have been since your redevelopment works so the works clearly did not address the problem
— the queues are at all the toilets so blaming women for not looking around is quite annoying — be assured that we do look and have found that the other toilets have similarly long queues. 

This is not simply a matter of inconvenience. Women who are pregnant, women with small children, women who have urinary tract infections (women are 8x more likely than men to have a UTI), women who are menstruating, all may need to access toilets urgently.

Your programme to improve facilities is welcome, however unless the design will specifically address under-provision for your female customers, this situation will continue. I would therefore welcome hearing what your exact plans are to address the fact that there are often queues for all the female toilets.

Best wishes,
And email to Alberto.martin@ltn.aero and Info@ltn.aero

OK, OK definitely time to cheer you up...
...with Beta Female (13), a brilliant radio show about a Scottish Pakistani woman trying to keep her shit together while dealing with her overbearing family and clueless boyfriend. By Amna Saleem (perhaps more famously known as @AGlasgowGirl (14) on twitter), this genuinely had me lolling in the dentist. And I don't even LIKE radio comedy. Listen now if only to find out why anyone would say "D'you know what I actually can't have another chicken fight with you."

That's it! As ever, I don't check the email this comes from, so tweet me @CCriadoPerez if you want to say something. Until next week...