Invisible Women Issue 4: Unisex Genitals
Hello my dear GFPs, and welcome to issue 4 of Invisible Women: The Newsletter!

This week I was thrilled to make the shortlist of the FT & McKinsey Business Book of the Year alongside Shoshana Zuboff with her majestic tome (excuse my language I hate that word too, but it's definitely a tome) The Age of Surveillance Capitalism: The fight for the future at the new frontier of power. Also there were some men on the shortlist.

Anyway, that is of course very exciting, but not nearly as exciting as the SEXISM I experienced at the announcement lunch. I was sitting at the table with my charming plus one when a man, a journalist... 

...I shan't name the paper...



...there I presume to cover the event, since he took shorthand notes on the panel, came and sat next to my tame American Beefcake (AB). He immediately engaged the AB in conversation -- look, I don't blame him, the AB is a fine specimen of a man. But when the AB tried to introduce me & point out he was my plus one, the man barely glanced at me before turning back to the AB and asking him about his work. You could practically see the cogs turning in his head as his eyes glazed over me: "young women; probably not influential; uninteresting." In fact it was so blatant that the AB even noticed it and brought it up with me later without my mentioning it. The kicker came when I was announced as one of the shortlisted authors. Suddenly, I was extremely interesting and we were old friends. Oh how we laughed.

Anyway, it was a small sexism. That type of sexism when you realise that some men really do still think women are irrelevant window-dressing. But I think worth writing about, because it's something that is so common and it sounds so petty when you recount it, because on the grand scheme of things, who cares? But really, it's so telling -- and in this instance ultimately pretty funny given the extreme nature of the volte face. 

The exchange reminded me a little of the excellent Siri Hustvedt essay "Knausgaard Writes Like a Woman," in which she tells the following anecdote:
I once interviewed the Norwegian writer Karl Ove Knausgaard in New York in front of an audience. It was soon after the first volume of his massive autobiographical work My Struggle had been published in English. I am an admirer of the book, or rather books, both in Norwegian and in its excellent English translation (so far), and was happy to interview the writer. I had prepared questions, and he answered them sincerely and intelligently. Near the end of our talk, I asked him why in a book that contained hundreds of references to writers, only a single woman was mentioned: Julia Kristeva. Were there no works by women that had had any influence on him as a writer? Was there a reason for this rather startling omission? Why didn't he refer to any other women writers?
His answer came swiftly, "No competition."

I was a little taken aback by his response and, although I should have asked him to elaborate, we were running out of time, and I didn't get a chance to do it. And yet, his answer has played in my head like a recurring melody. "No competition." I don't believe that Knausgaard actually thinks Kristeva is the only woman, living or dead, capable of writing or thinking well. This would be preposterous. My guess instead is that for him competition, literary and otherwise, means pitting himself against other men. Women, however brilliant, simply don't count, with the possible exception of Kristeva, who I happen to know was all the rage during the time Knausgaard attended the University of Bergen, and she may have slipped into his book for that reason. Had he lived in another place at another time, Virginia Woolf or Simone Weil might have held the position of "literary or intellectual woman." Knausgaard is not alone in his dismissal of women as competition. In fact, he may simply be more honest than many male writers, scholars, and other menfolk who don't see or hear a woman because she is not competition. I do not think this is the only reason for disappearing women in a room or in the broader zone of literature, but it is surely an interesting thought, one that should be addressed. Is Knausgaard simply conscious of an attitude that other men and women implicitly believe but cannot or do not articulate?
***************************
Anyway, on with the newsletter! This week I've been thinking a lot about bodies. First, I came across some great anatomical drawings that illustrated important differences between...

...the standard body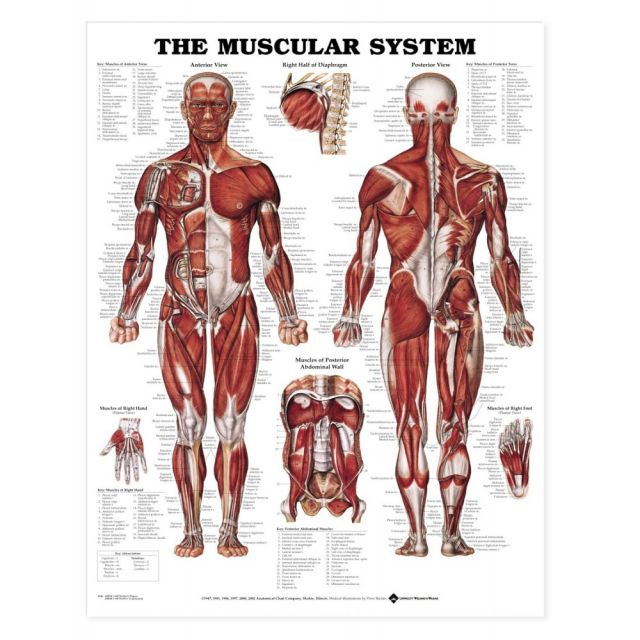 ...and the female body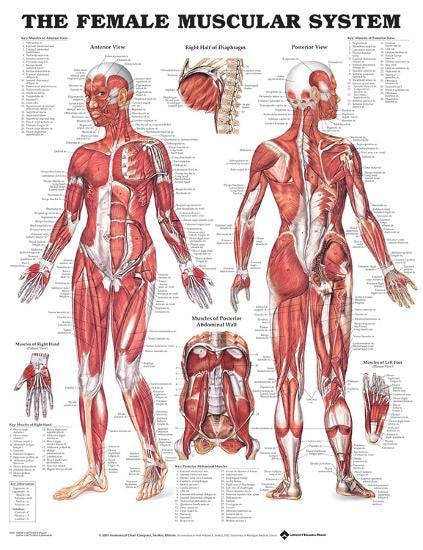 Flayed, but still got it, baby.

And careful readers of Invisible Women will remember my old friend The Vascular System and Viscera: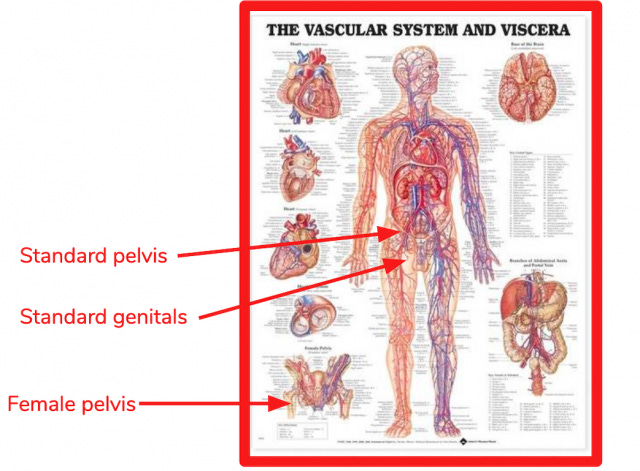 So far so eye-roll, but then along came twitter to remind me why this matters so much. 

You may have seen this article in the Daily Mail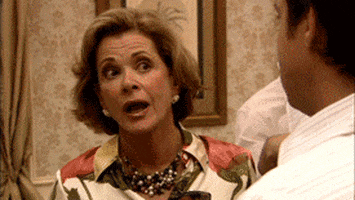 from a few days ago, headlined "Female Marine and Army recruits suffer career-threatening injuries from £79million battle kit designed for men". Clearly the Daily Mail knows how to get me to click. 

Anyway, this of course won't be news to readers of Invisible Women; I cover the issue of military kit designed for men in chapter 5 "The Henry Higgins Effect." It was a difficult section to write, because I had a fair amount of anecdotal evidence, but there was very little hard data.

Still, what I did find was pretty shocking: stats from the British Army revealed that women of the same fitness and strength as men were up to 7x more likely than men to suffer from musculoskeletal injuries and ten times more likely to suffer from hip and pelvic stress fractures. (IW, p.123). This has been partly linked to the entirely arbitrary decision to force women to match their stride length to the male default, but has also been linked to the issue of poorly fitting kit, from backpacks designed around male muscle mass distribution, to body armour designed for bodies without boobs.

So you can imagine my irritation when I came across this tweet: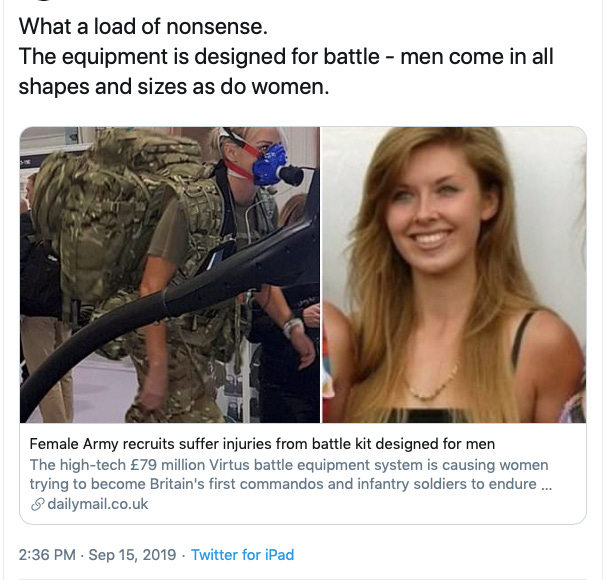 The man who tweeted this was a Northern Irish politician, but more importantly, he was not that long retired from the Army as a Captain. He is a recipient of the Military Cross. He of all people should know the importance of kit fitting properly. And why begrudge women a kit that has been designed for their bodies, as men have one that has been designed for theirs? 

(A current member of the Canadian Army had an idea of why there was so much resistance from some men in the military, such as our Henry Higgins friend abov:  "a common trope in the military is that issued kit has two sizes: too big and too small. So complaints from women about kit fitting wrong falls on deaf ears because everyone feels their kit doesn't fit." But, she added, "at least men's kit is built for their body.")

Anyway, I challenged Mr Henry Higgins and he claimed that my data was out of date (well, maybe, but whose fault is that?) and that the problems had been designed out (contrary to the claims of the actual scientists looking into the issue who were quoted in the article). I thought I'd ask women in the military for their experiences so I could get the whole thing cleared up.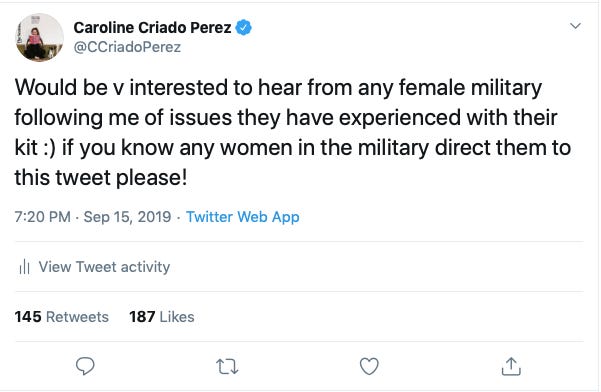 And the messages poured in from around the world, from women in the army, in the navy, in the airforce, in the marines, plus several women in the armed police. And they all had the same stories: too big, too big, too big, TOO BIG.

All the women who got in touch asked to be anonymous. "We're not really supposed to express criticism of the kit and equipment outside official channels, but it's so frustrating that sometimes it's hard not to," one woman told me. Indeed: most women told me they had tried to raise these issues -- many of which related to being able to safely carry out their duties -- and were fobbed off. It was a problem with their fitness. They were whining. They just wanted special treatment. Well, let's see shall we?

Let's start with their uniforms, where the main issue was size. 

Several women complained about the new "unisex" personal clothing system (PCS) worn by naval officers at sea
To get my hips into the trousers, I need a waist size not far off my hip size, so there's masses of spare material at the waist. To compound this, the top half consists of either a t shirt or a thin fleece, with a sort of heavy weight shirt over that. The shirt isn't tailored for women, so to get your breasts into it, you need a bigger size, so there's a load of spare material below the chest because it doesn't taper. And all these top garments with their excessive fabric have to tuck into the trousers, with their excessive fabric, so by the time I'm dressed I have a massive roll of excess fabric around my waist.
Another woman lamented the "truly irrational amounts of armpit," also noting that if she wore her shirt "properly tucked in", her "chest" pockets "would be inside my belt at the bottom." Several women complained that rank boards (worn by officers, with short sleeved shirts) were "too long for narrower female shoulders," an issue that was exacerbated by "unisex" boards meeting sexed shirts: female short sleeve shirts have "a ladies' lapel not mens' collar, which further reduces available shoulder width for board." 

The same issue of too big "unisex" uniform was raised by women in the army: "Our standard issue uniform trousers are designed for men - not for female hips. Daily minor but annoying discomfort," said one female officer. "I'm absolutely not saying we want special treatment," explained another officer, "but it's really hard not to resent it when you're having to wear sweaty cycling shorts under your trousers on exercise due to chafing from excess material around the crotch." Several women in the US military raised the spectre of the "FUPA" (Fat Upper Pussy Area") resulting from the bunched out excess material on their default male trousers. One woman summed it up: "In general, I look scruffy. I feel like I'm a kid whose been in the dressing up box at kindergarten and is being allowed to play at being a man."

But as several women pointed out, this isn't just an issue of looking good or even of comfort. "Part of military life is to look smart - when your clothes are always baggy, this is not possible. As a result leaders will comment on women being 'scruffy', this leads to women paying for clothes to be tailored to improve reputational standing."

Of course when there is sexed uniform, the female version is inferior and/or more expensive
Several women in the Navy complained that female caps cost about twice the price of equivalent male caps, and that the white shirts they have to wear on a daily basis were see-through (one woman told me that she wears male shirts and uniform trousers because they're cheaper and better quality and she was senior enough that no one would tell her off for being incorrectly dressed). Inevitably, women complained that their trousers have fewer pockets than male trousers.

Still tho, as one woman told me, "the regulations do say that [the supposedly unisex] uniforms can be tailored for non-standard body shapes, but this is at our own expense." And yes, before you ask, that does appear to be how the Navy sees the female body. From the Naval Dress Regulations:


Rucksacks

Too long, too wide and designed around male muscle mass distribution, standard issue military rucksacks came in for a lot of complaints from military women. Women told me that the length of the rucksack pushed their neck down, and the width meant that the straps kept falling down onto their upper arms. Several women took issue with the weight distribution of the standard issue military rucksack, where much of the load hangs from the shoulders rather than being distributed onto the hips (men's upper body strength is on average 50% higher than women's, but the average sex gap in lower body strength is about half that -- IW, p.231).

"The waist belt was just a single strap which naturally sat far lower than my hips making it difficult to use it to transfer the weight from my shoulders to my hips," a woman in the RAF explained. 
"We would also use jet packs to carry weight while running which had no waist or chest band and meant that the bags would move a lot as we'd run. The straps went right over my chest and would chafe. In order to run I'd end up holding the straps  in my hands to keep them still. When I was removed from training, a group of women with similar conditions to mine were reviewing photos of ourselves on exercise wearing the jet packs, we could see that in each case out spines curved too far wearing them."  
Several women pointed out that female civilian backpacks exist that distribute load much better and are an appropriate back length for women -- so why can't the military manage?

The frustrating thing is that they do seem to have tried -- but they don't seem to have factored in the female body when doing so. One woman who contacted me actually had been issued the latest British Army Virtus kit that is meant to have solved the weight distribution problem, "with load-bearing wire frames intended to spread weight from the shoulders to the hips." Unfortunately, however, "it just doesn't work that way with the average female curves. Because our bodies go in and out in various places, the wire frames don't sit flat along our back, resulting in discomfort or the need to 'adapt' the daysacks by pulling out the entire wire frames." I also heard from another woman who has just been deployed, but is still using old kit, as there is not enough of the new Virtus kit to go around anyway.

The result is that women are getting injured by their packs. One woman told me that she has "compression fractures in my spine and lost 2cm in height from carrying heavy packs that were ill fitting." It is, she said, apparently "quite normal for women to loose height after finishing basic training." She and her female friends "have scars on our hips and spine from where the packs rub and irritate. When walking many miles this is painful."

Body Armour
The main takeaway from the body armour complaints is that whoever is designing body armour for the military has never encountered breasts. Pretty much every woman complained that there was no room for her breasts in her body armour. This leaves women in pain -- and often in danger. Many women explained that in order for the armour to fit their breasts, it was too big on the waist and arms, where it should fit snugly for protection. Other women complained that not accounting for breasts meant that the armour "raises up on women but not men, leaving the lower abdomen exposed." And the new Virtus armour falls down here too. Although it is "miles more comfortable to wear for anyone with breasts than what we had before, it still feels like your ribcage is being clamped in the jaws of a vice. Request a size up, and it's comfortable over the boobs, but you've got thin air circling your waist underneath the body armour.  You just try not to think about it when you're on a live firing range or exercise."

Beyond boobs, the general complaint about armour was that, like with all other parts of the military kit, it is just too BIG. "They're all quite large," said one woman from the Canadian military. "Typically the smallest size is a medium and fits HUGE." Several women explained that small usually mean's men's small which is "too broad and yet too short to protect you adequately, while limiting your cross body movements and firing accuracy." Another woman explained that she was 5'5" (above average height for a British or American woman) and her armour "fell below my hips, which passes the natural pivot point, meaning I couldn't pick anything up from the ground, significantly reducing mobility. The width was much wider than my shoulder - to operate a rifle, you need to be able to fit the butt of the weapon in to your shoulder to accurately fire and absorb the recoil. Without this it is likely the weapon would slip away when fired, which is dangerous."

Other PPE:

-- Nearly every woman mentioned boots as an issue. Too big, too heavy, too wide. Not enough arch support. And too often issued in "men's size only" -- which women have to wear, because it's "uniform." Women resort to wearing several pairs of socks to stop their feet "rattling around in them."
-- Several women complained that their combat helmet didn't fit their head. One woman in the British Army noted that while most other armies have helmets that are heightened at the rear to accommodate a bun (women with long hair are mandated to wear a bun) the British Army helmet is round all the way around. "When hair is in a bun this pushes the rear of the helmet up, dropping the front of the helmet. When in the prone position(laying flat on the ground to fire a weapon - the default fitting position), the hair bun pushes the helmet forward over eyes restricting sight. Instructors used to yell at me and my (all female) training platoon to lift our heads up - but there was little we could do." 
-- Gloves also came into criticism for being too big. "There wasn't a single pair of army issue gloves that were small enough for my hands," said one woman. "Wearing gloves that are too long on the fingers when firing a weapon can cause slippage and difficulty operating. We either paid for our own or didn't wear any which caused an increase in non-freezing cold injuries (NFCIs)."
-- One man who had for years had to fit military personnel for gas masks in the US military got in touch to tell me it had been so much more difficult to fit women than men for masks that he "got the distinct impression that US military gas masks were designed around male heads." The masks were just too wide for many women's faces, which meant that women had to  "wear the straps too tight and be horribly uncomfortable" in order to get a good seal. In other words, for the mask to function. However he said, the US military has switched some but not all of their protective masks to a newer model, so perhaps the new M50 series mask has solved the problem? Alas, it is impossible to tell. A study comparing the M40 to the XM50 mask found that 94% of soldiers "rated the XM50 mask as better than the M40 series mask." They were all men.

So, Mr Henry Higgins, maybe, just maybe, it's not "a load of nonsense."
*****************************
I think that's probably quite enough gender data gap and the default male for one week, so I'll just leave you with...Toilet queue of the week!

I'm going slightly rogue this week, because instead of a photo of a toilet queue, I'm sharing this tweet from Great Western Railway telling me what the toilet situation is at Bristol Temple Meads station.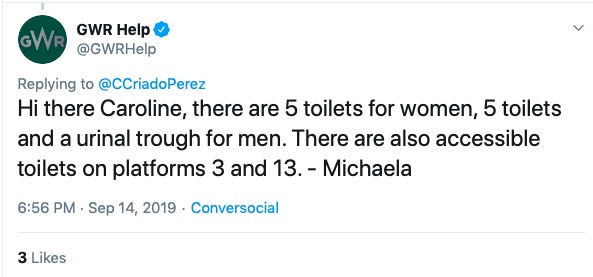 Oh dear, Michaela. Feel free to tweet @networkrailwest what you think about them given men twice the provision to women.  

Byeeeeee!!!!