Invisible Women Issue 6: Lost in Translation
Hello my dear GFPs and welcome issue 6 of Invisible Women: The Newsletter.

First up, ευτυχισμένη ημέρα δημοσίευσης σε μένα, as today Invisible Women comes out in Greek! Here is a pic of it looking very lovely 😍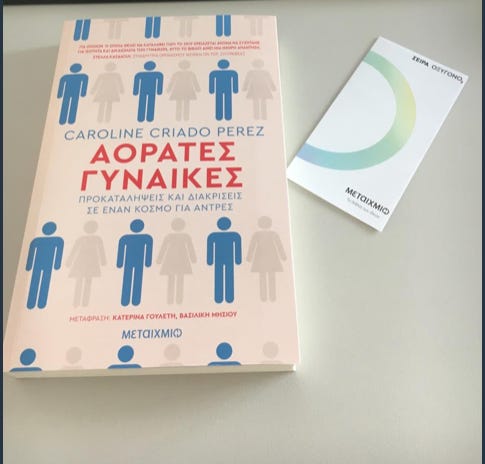 I was particularly excited to find that the title in Greek transliterates to "Aorates Gynaikes" which I believe is gyn as in gynaecology. I can't really explain why this excites me so much, but it does. I guess I'm an amateur etymology nerd who hasn't a clue what she's doing. I await to have my fun ruined and be told that it is not the same stem at all.

And the wordy-nerdy excitement only continued with the note from translators Katerina Gouleti and Vasiliki Misiou that is included in the Greek edition. I've always been completely fascinated by the relationship between a translated text and its original. To what extent are you reading a new work if you read in translation? How possible is it to reproduce tone and even meaning in a wholly different language? I'm reminded of a fascinating interview I conducted with Sophie Scott, a neuroscientist at UCL, who told me about the  difficulties she ran into trying to translate a study in Chinese. Here's an excerpt from the resulting article, which you might like to read in full if you enjoy Jordan Peterson themed bants:
When neuroscientist Sophie Scott was conducting a separate study on attitudes to laughter, she encountered serious difficulties translating a question about someone laughing "nastily" from English into Chinese. "Some definitions of it might sound like it's a more sexual connotation, which wasn't what we meant at all," she said.

Another question that caused cross-cultural complications was agreeing/disagreeing with the statement, "I often laughed uncontrollably". For English participants this just cohered with people who thought they did/didn't laugh a lot. But for Chinese participants it stood out on its own.

It turned out that in China it's not a good thing to laugh uncontrollably. "So what had seemed to us like, 'well here's yet another question asking whether or not people laugh a lot', actually meant something different in that culture," Scott said.
Anyway, back to the translators' note for Invisible Women, which I'm reproducing here in full Is that narcissistic? Well, maybe, but I don't care because I love it.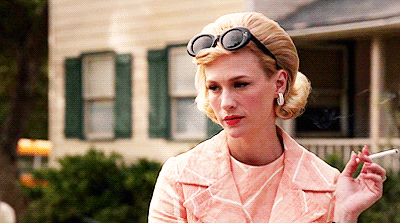 So here it is....
....
....
...IN ENGLISH TRANSLATION: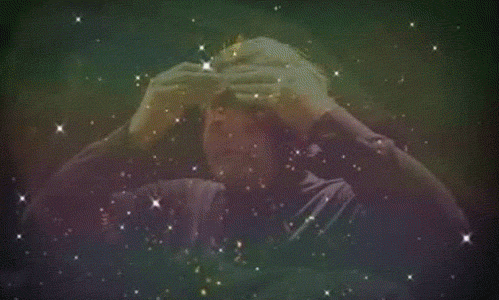 Translators' note
 
The translation of this book was undoubtedly a particularly interesting and creative translation project, on the one hand, because of the challenges presented at many levels during the translation process, and, on the other hand, due to the extremely sensitive issues raised by the author Caroline Criado Perez. The British journalist, writer and feminist activist in the fight for women's rights, brings together data from around the world through which she tries to demonstrate that the gender data gap stems from, but also fuels, the perpetuation of gender stereotypes, perceptions and behaviors, which in turn lead to the building of a world where "what is male is seen as universal," while women are perceived "as a minority with a niche identity and a subjective point of view" and this is why they are "forgotten, ignored and made invisible." Therefore, as the author herself emphasizes, this book is a "call for change" because when women "step out from the shadows, it is "to the benefit of humanity as a whole."

Gender-Neutral Language
We have clearly taken note of the fact that Caroline Criado-Perez has chosen to underline the importance of equal gender representation through using gender-neutral language. While, however, the structure of the English language system favours such an option, in the Greek language, which has three grammatical genders (male, female, neutral) that are expressed with a multitude of suffixes, it becomes extremely difficult to have a gender-neutral language in every case. This has been the greatest translation challenge for us, leading to a  prolonged hunt for the ideal solutions that would ensure gendered neutrality.

One choice was to constantly add clarifications such as "professors, women and men" or keep both versions referring to both men and women i.e. kathigites (male professors) and kathigitries (women professors). The other solution was the use of the hyphen (kathigites/tries) plus the use of article as well as the pronouns in both genders. However, a long-page document could be easily rendered illegible and tiresome for the reader, should all these techniques be used throughout its content. Especially when the content at hand is already filled with information, statistical data and a myriad of names and references.

Aiming at creating a translated version that could ensure a smooth and unhindered reading experience, we chose to replace the non-gender-neutral words with neutral synonyms/ generalized terms i.e. (back translation from Greek)

Professors-academic staff
Students-student body
Readers-readership
Researchers-research team
 
The adoption of the specific options, however, could result in a differentiation of style or higher language register compared to the source language text. These choices have puzzled us throughout the translation process, knowing that every choice has its advantages and disadvantages and, of course, its sacrifices. An additional attention was shed, therefore, to compensate for the alterations made within the sentences to bring our translated version in balance with the original text in terms of register and style.
 
STYLE
The author has been constantly participating in an endless tightrope walk both at a linguistic and stylistic level, seeking to inform and persuade her readership. There are constant oscillations between specialized and common language, formal and informal structures. Our translation tries to balance out these shifts without eliminating the "lacy" style of the original.

It is worth noting that before the translation of this book we had dealt with issues of feminist translation and gender discourse so, a large part of our research was the author herself, her way of writing, her work, her impact. Our "acquaintance" with her at a deeper level played an important role. No matter how many choices were made, they are all driven by the respect towards the author and the readership.
 
Katerina Gouleti, Vasiliki Misiou
Thessaloniki, August 2019
   ********************************* Right that's quite enough about me. But not enough about translation! Released this week is this fascinating review of a new biography (Becoming Beauvoir, by Kate Kirkpatrick -- I see what you did there Dr Kirkpatrick and I LIKE IT) of my patron saint Simone de Beauvoir, who some of you may remember provides the epigraph for Invisible Women:



😍
Anyway the review particularly struck me because of this revelation
In some ways, then, Beauvoir helped to distort her own reputation through omission. In others, it was distorted for her – most shockingly in Parshley's translation of The Second Sex, which cut nearly 15 per cent of the original, systematically removing the feminism from her argument.  
Wait...WHAT??? I ran to my treasured copy of The Second Sex. Sure enough, I had this mutilated version: translated by H. M. Parshley. But why would she do this, I wondered, feeling horribly robbed.

It was then I realised. Parshley was not, as I had always for some reason assumed, an excellent 1950s female academic -- but a man. Perhaps the first time I have ever made the default female mistake. From Kirkpatrick's biography:
Parshley had no background in philosophy or French literature, and he missed many of the rich philosophical connotations and literary allusions of Beauvoir's original French, making her look much less rigorously philosophical than she was. He also cut sections and translated material in less-than-innocent ways. The hardest hit section was the one on women's history, where he deleted seventy-eight women's names and almost every reference to socialist forms of feminism. He cut references to women's anger and oppression but kept references to men's feelings." "feelings. He cut Beauvoir's analysis of housework.

When she saw what Parshley had cut, Beauvoir wrote back that 'so much of what seems important to me will have been omitted'. He wrote back saying that the book would be 'too long' if he didn't cut it, so Beauvoir asked him to state outright in the preface that he had made omissions and condensed her work. But he was not as forthright as she hoped.
[...]
In 1985 Beauvoir was still engaging in feminist activism and giving interviews, expressing her hope that a new translation of The Second Sex would be released in English, 'An honest translation, with the philosophical dimension and with all the parts that Mr. Parshley judged pointless and which I consider to have a point.' 
Wow. So the sex of the translator does matter...(one day I'll tell you a personal story about this). Anyway I guess it's time to buy the new 2009 translation of The Second Sex, translated by Constance Borde and Sheila Malovany-Chevallier who have restored all the cut feminism. It only took the publishing industry half a century to address this bowdlerisation of a foundational feminist text...

*******************************

Male default of the week

Since I both am a total nerd and have a cute bouncy dog, I'm always up for discovering new walking trails so I was delighted to cone across this snippet in The Week a while back,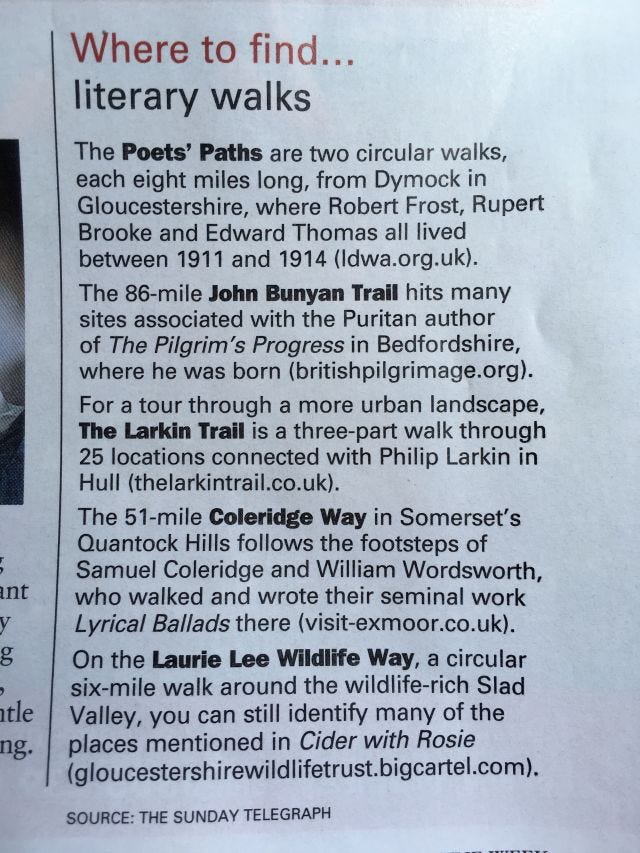 except...oh. They're all men. So that's not so much "Literary walks" as "Men's literary walks."
Because women famously never wrote or walked amirite?

Untrue! Here is a fantastic article by Lauren Elkin, author of Flâneuse: Women Walk the City in Paris, New York, Tokyo, Venice, and London.
It's never been more fashionable to write about walking in cities. Books on psychogeography have become a cottage industry, their authors held up as philosophers of modernity. The roots of what they do lie in a 19th-century phenomenon – the flâneur, a figure of privilege and leisure, with the time and money to amble around the city at will. He is both stimulated and agitated by the buzz and hum of the city, the crowd; he is both part of and separate from the urban spectacle, both actor and observer.

He is also, always, a man. It's strange: for as long as there have been cities, there have been women living in them, yet if we want to know what it's like to walk thoughtfully in the city, there is only a long tradition of writing by men that tells us, stretching from Thomas De Quincey to André Breton to Will Self. But if we want to know how women experience the city? The flâneuse, if she can be said to exist, must be a streetwalker or a homeless woman, or some other unfortunate whose circumstances have forced her onto the street. Today, when most women you meet in the city have a tale or two of street harassment to tell, the notion of wandering the streets alone seems a fraught proposition.
But, writes, Elkin, while the history of women who walk and wrote has, like so much women's history, been overlooked, it is there if we peek beneath the default male surface. And while there a clearly lots of women who deserve literary walks who don't have them, some do actually exist, despite what the Sunday Telegraph says. I did a quick round-up of some literary walks celebrating the women we love to read -- don't say I never do anything for you.

Hannah More, Somerset
The Brontës, Yorkshire
Jane Austen, Hampshire
Virginia Woolf (well, strictly, Mrs Dalloway), London
Virginia Woolf, this one's a whole holiday to various locations which I fully intend to do myself and as a chaser here is a lovely piece on the importance of walking to Woolf.
Dorothy L. Sayers, (continuing on the translation theme, as well as being a bestselling crime writer, Sayers also translated a bestselling version of Dante's Divine Comedy), Oxford

Women walking chaser: Liz Clarke wrote about her internal "sat nav" that directed her not along the shortest, but along the safest route home (note to techbros everywhere). 
The next morning I learned that a serious sexual assault took place nearby. Along one of the routes that I would have taken if my 'sat nav' hadn't advised against it for being secluded. Shaking with anger and sadness I write this; not because "it could have been me", but that this learned behaviour is part of our lives, to save our lives; and is likely to be part of our daughters' lives too. When will it end? #stopviolenceagainstwomen
Slightly more jolly male default of the week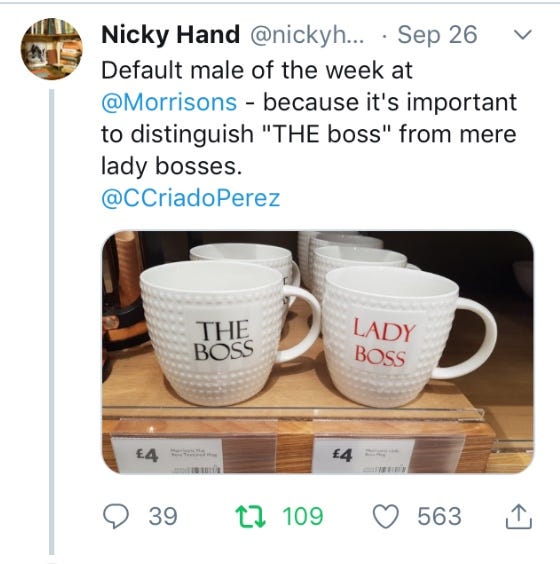 The Lady boss is also embossed with HEARTS just to remind you that she's still got one despite literally being the boss of you.

Gender Data Gap of the Week

Wait for it...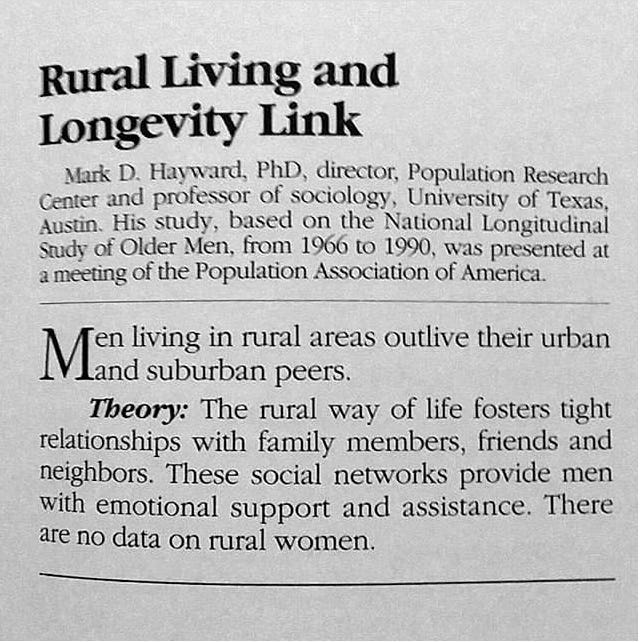 ...and there it is.

Toilet Queue of the Week

This week's honour goes to the Old Vic, who somehow managed to spend hundreds of thousands of pounds on "more ladies loos", only to end up with...no ladies loos at all. 

Back in August I went to the Old Vic with my theatre wife Helen Lewis and saw this poster up in the temporary ladies loos.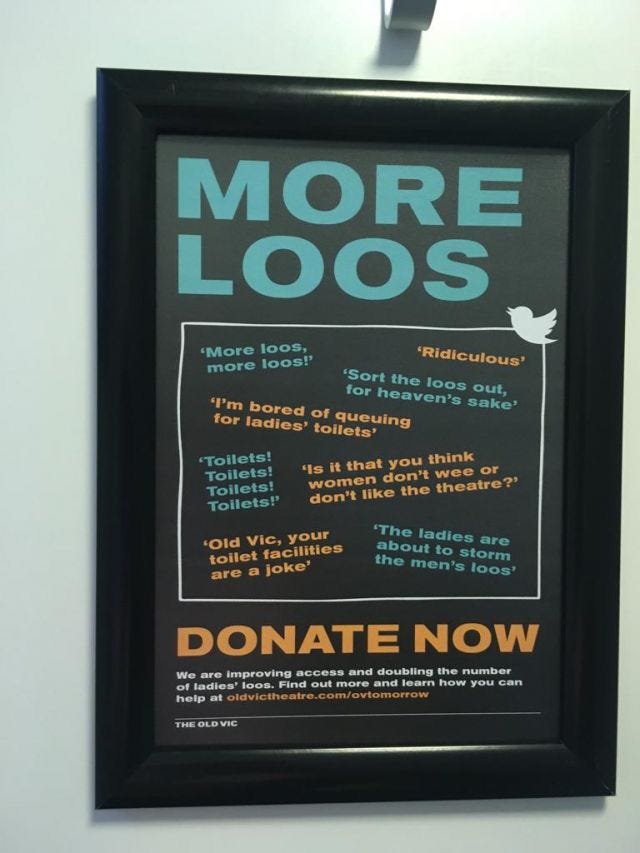 As you can imagine, given I have somehow become head of feminism's toilet division, I was delighted. I even tweeted it out approvingly. 

But then, yesterday, the Old Vic unveiled what it had *actually* done with its toilets. They were all now supposedly gender neutral. Except they weren't, because they'd done that old trick of labelling toilets with urinals as "gender neutral". It's almost like they haven't read Invisible Women 🧐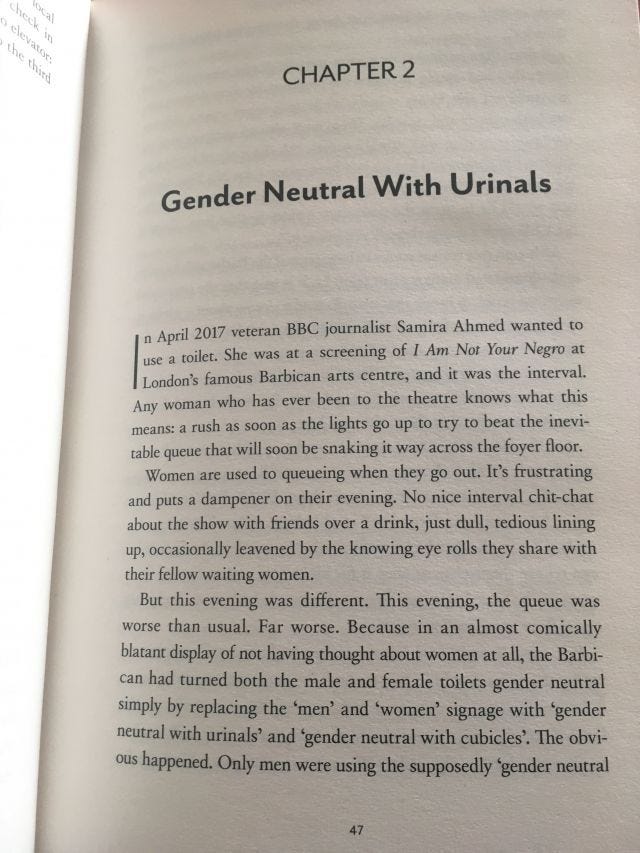 The actual upshot of the refurbishment is that while men have a choice of 42 facilities (18 practically speaking just for them), women only realistically have a choice of 24 -- that they have to share with men. So once again, women have about half the provision of men, when they actually need double the provision. 

Hence, this pic from Saturday night of women queueing and men....probably propping up the bar after they had a nice quick piss. Same old same old.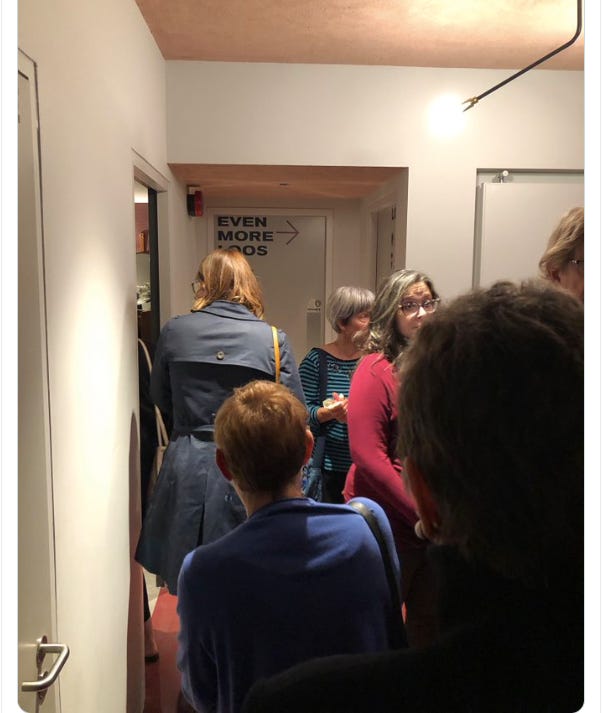 And the frustrating thing is, it would have been so easy to get this right! It's excellent to have gender neutral provision for all sorts of reasons, from care-giving to people who feel uncomfortable in a sexed toilet. But if you're going to go gender neutral, go fully gender neutral, rather than gender neutral, plus men. Or, even better, make like the Parisians and go gender neutral plus women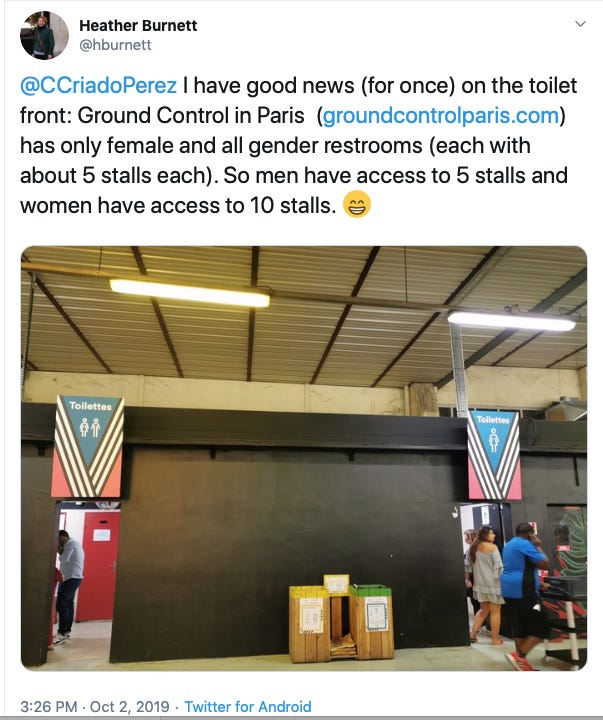 Incidentally, you'll notice the women in this photo are choosing to queue rather than use the gender neutral toilet, which does rather say something about women's preferences. There are all sorts of reasons women might prefer a toilet without men in them, from awkwardness, to religious reasons, all the way through to fear. And those preferences should not be shamed, as I have seen some people doing on twitter. Yes, women are more scared than men. In fact, women are around twice as likely to be scared as men in public spaces and it does impact on their mobility and basic right of access to public spaces (IW, p.53-4).
But all too often the blame is put on women themselves for feeling fearful, rather than on planners for designing urban spaces and transit environments that make them feel unsafe. And, as usual, the gender data gap is behind it all. The official statistics show that men are in fact more likely to be victims of crime in public spaces, including public transport. And this paradox, says Loukaitou-Sideris, 'has led to the conclusion that women's fear of crime is irrational and more of a problem than crime itself'. But, she points out, the official statistics do not tell the whole story.
As women navigate public spaces, they are also navigating a slew of threatening sexual behaviours. Before we even get to the more serious offences like being assaulted, women are dealing on a daily basis with behaviours from men that make – and are often calculated to make – them feel uncomfortable. Ranging from catcalling, to being leered at, to the use of 'sexualised slurs [and] requests for someone's name', none of these behaviours is criminal exactly, but they all add up to a feeling of sexual menace. A feeling of being watched. Of being in danger – and in fact these behaviours can easily escalate. Enough women have experienced the sharp shift from 'Smile, love, it might never happen,' to 'Fuck you bitch why are you ignoring me?' to being followed home and assaulted, to know that an 'innocent' comment from a male stranger can be anything but.
But women don't report these behaviours, because who could they report them to? So we base design on data riddled with gaps and then blame women for "irrational" fear. Fuck. That. Noise. 

The Old Vic has two choices here. Either rip out the urinals and turn their entire provision into actually gender neutral toilets. Or, as I suspect most women would actually prefer, rip out the urinals and turn their provision into 50% gender neutral and 50% women only. 

Luckily for us, The Old Vic has specifically welcomed feedback on this issue, so it's, yes you guessed it, email time! I strongly recommend that you tailor it to your own words, as that will have far more impact. But do send an email!
Until next time, γενικός θηλυκός φίλος....! xoxo