Invisible Women Issue 7: A media personality, lawyer, accountant and woman walk into a bar
My dear GFPs, I must once again apologise for the late arrival of Invisible Women: The Newsletter! I think in future let's just agree that I'll send it when I can as otherwise every newsletter will begin with me grovelling.
😍😍😍
This week I read a piece about how open-plan offices are experienced differently by men and women:
Every survey respondent who specifically mentioned being visible, watched, observed, exposed or more accountable was a woman. The male occupants, it seems, were oblivious to their increased exposure.
And I can't. Stop. Thinking about it.
In particular I can't stop thinking about how the men seemed oblivious, and what that obliviousness means for women. I can't stop thinking about how unusual it is for planners of any kind to take into account how women grow up being watched, monitored, judged — and how that shapes us. How it affects the spaces we chose to inhabit, the routes we chose to take home, the ways we present our bodies. How it shapes our minds and our behaviours. And I can't stop thinking about how women are blamed, mocked and pathologised for how this socialisation has shaped us, made us more fearful.
In last week's newsletter, in my section on the Old Vic's toilets, I quoted myself (see IW p.96 for why women specifically should consider doing this more often) on how the data on how risky public spaces are for women has a whacking great data gap — and how this data gap has led, in the words of professor of urban planning Anastasia Loukaitou-Sideris, "to the conclusion that women's fear of crime is irrational and more of a problem than crime itself."
I can't stop thinking about how the men seemed oblivious.

You know what I think? Yes, they could actually be intentionally menacing women, and one is without a doubt a prick of the first order. But mostly? I think both these men are oblivious.
***
I Can't Stop Thinking About It Coda (it's quite a long one, I have many thoughts):


In Sandra Bartsky's seminal essay, "Feminism, Foucault and the modernisation of patriarchal power," (don't be put off by the title, it's a banging read) she references a series of over 2000 photographs taken by the German photographer Marianne Wex, who documented how men and women walked, stood, sat, in public.
And the differences were stark. Women sit and walk with their arms close to their bodies, their legs pressed close together. "Women in theses photos makes themselves small and narrow, harmless; they seem tense; take up little space."
By contrast, and decades before the term "manspreading" is coined, Bartky describes it perfectly. Men, she writes,
expand into available space; they sit with legs far apart and arms flung out at some distance from the body. Most common in these sitting male figures is what Wex calls the "proffering position": the men sit with legs thrown wide apart, crotch visible, feet pointing outward, often with an arm and a casually dangling hand resting comfortably on an open spread thigh.
I write yet again from a train. There is a man sitting opposite me doing exactly this. Is he oblivious?
Bartky also writes about what she calls the "economies" of smile and touch. These economies are gendered: women smile more ("in a smile elicitation study, one researcher found that the rate of smile return by women was 93 per cent, by men only 67 percent"), while men touch more —specifically, they touch women more and on more parts of the body than women do.

Are these men oblivious too?
***
Revisiting Bartky reminds me of another thought-provoking essay about how women and men move differently through public spaces, this one much more recent, by Dr Rachel Hewitt (yes the same Rachel Hewitt who was chased by a weirdo while running). She writes:
A couple of years ago, I found my feet skating out from underneath me as I hit a puddle whilst darting around an advancing male pedestrian. As I crashed to the floor, he didn't even look behind him. For me, this was a lightbulb moment. Whilst walking through busy thoroughfares – pavements, tube stations, bottlenecks in shopping centres – I had prided myself on my ability to deftly scan the moving crowd and pick a way through, slaloming around other pedestrians. But, down on the floor, I realised: the man who had just bombed past me was doing no such thing. He was simply pursuing his course, powering forward in a straight line. He and I were finding our paths through public space in very different ways indeed.
And so she decided to conduct an experiment. For a month, Dr Hewitt would refuse to give way for men.
Reader, it did not go well.
I was on the receiving end of full body slams, biceps smashed into shoulders, painful brushes against sharp elbows, fractional near-misses, static stand-offs, coffee cups upturned over my coat, mobile phones pitched to the ground, groups of men refusing to part, looks of confusion, bemusement, and anger, a few muttered apologies, a few more stunned silences, and a lot of swearing.
Averaged over the month Dr Hewitt endured around two to three collisions with men per day. She had only one collision with a female pedestrian for the entire duration of her experiment.

There are two things that really struck me about Dr Hewitt's account. First, the obliviousness of the men she kept bumping into. Their obliviousness to how women silently shape ourselves around them. These men just expected her not to be in their way. They probably didn't give much thought to how she achieved that. It reminded me of the men who complain about women doing their make-up in public: they want the end result, but they don't want to know about the work that goes into getting there.
But the second thing that struck me about Dr Hewitt's account was slightly more disturbing, and that was how I have been complicit in this unconscious street dance. Like Dr Hewitt, I too have prided myself on my ability to weave in and out of crowds. It never occurred to me that the crowd could weave out of my way. In my head the crowd is immutable and I am mutable.
And like the men who swore at her for not contorting herself to accommodate them, we too blame ourselves when we run up against the barriers of a world that doesn't accommodate us. Because the male perspective is presented as THE perspective (see IW pp.12-13), women are used to thinking of ourselves as atypical, as outliers. There is an unwitting conspiracy of silence around the female experience and it's not just men who remain oblivious as a result — it is also women who remain oblivious: to each other. To ourselves as a group -- how much do you want to bet that until the women were asked in the open-plan offices study how they felt about their open-plan office, they never said a word about it? I also bet they hadn't even mentioned it to each other. Each woman thinking it was just a problem with her individually, rather than a gendered issue.
All this silo-ing of the female experience is rather convenient if you want to keep women oppressed, isn't it? And it is perhaps no coincidence that powerful men have historically responded with fear and revulsion to women speaking to each other without men present. From the Ancient Greek Maenads (literal trans: "the raving ones," Maenads are women who have basically spent too long getting well pissed and dancing maniacally only in the company of women and have therefore taken to tearing men apart with their bare hands) onwards, women congregating together have been viewed with suspicion. To shame women out of talking to each other we have belittled women's speech as "gossip", as "prattling".
This has, in a way, been the beauty of social media. Yes, it has its huge downsides and I speak from personal, daily experience. But it also has meant that women have started to realise quite how common our frustrations are. About half the world common, it turns out.
And yes, it is powerful. I can't tell you how many women have written to me telling me that they found it such a relief to read Invisible Women, because it made them realise that the way the world just didn't fit their bodies or their lifestyles very well was not in fact because there was something wrong with them or their bodies, but because the world literally hadn't been designed with those bodies and lifestyles in mind.
I don't want you to think I am blaming women for their silence. Or telling women they have to speak up more when the truth is there is rarely anyone willing to listen — or when there isn't anything to report. Not exactly. How can you report menacing behaviour that isn't criminal? It is not illegal for men to be menacing. When I was followed by a man at dusk just as I was trying to get home, who then chased me when I panicked and changed direction, and who then waited for me outside the shop I had run into until my boyfriend came and picked me up, there was nothing to report. He had done nothing illegal. He had just — knowingly in this instance — menaced me.
So no that is not what is not what I'm saying. Instead what I am saying is that those who are in charge of designing public spaces, including workspaces, must stop taking women's silence as agreement. They must go out of their way to gather data on women. To ask them, non-judgementally and ideally anonymously, how they feel about the office being turned open-plan or the toilets being made all unisex. And they must do this before they embark on any design project. The onus is not on women to speak truth to power. The onus is on power to ask women what they need.
***
2 Thoughts 2 Furious (just go with it)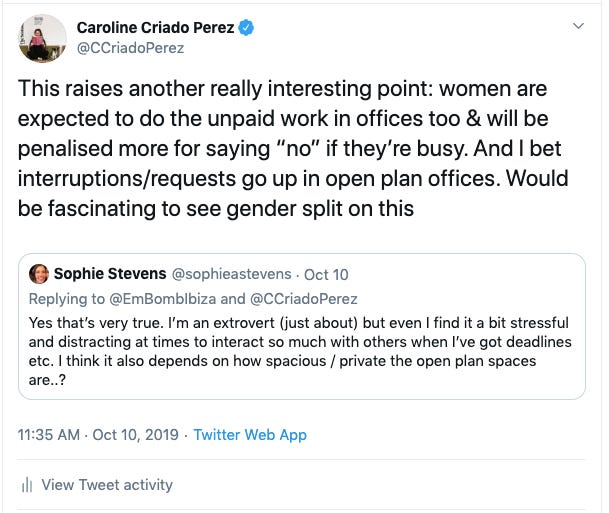 The open-plan offices paper doesn't address this question, but I'd love to see a gendered analysis of whether requests on women's time increase in open-plan offices, and whether women find it harder to say no when they feel watched. I'd be willing to take a bet on both answers being yes.
From Invisible Women:
When students have an emotional problem, it is their female professors, not their male professors they turn to. Students are also more likely to request extensions, grade boosts, and rule-bending of female academics. In isolation, a request of this kind isn't likely to take up much time or mental energy – but they add up, and they constitute a cost on female academics' time that male academics mostly aren't even aware of, [did someone say oblivious?] and that universities don't account for.

Women are also asked to do more undervalued admin work than their male colleagues – and they say yes, because they are penalised for being 'unlikeable' if they say no. (This is a problem across a range of workplaces: women, and in particular ethnic minority women, do the 'housekeeping' – taking notes, getting the coffee, cleaning up after everyone – in the office as well as at home.) Women's ability to publish is also impacted by their being more likely than their male colleagues to get loaded with extra teaching hours, and, like 'honorary' admin posts, teaching is viewed as less important, less serious, less valuable, than research. And we run into another vicious circle here: women's teaching load prevents them from publishing enough, which results in more teaching hours, and so on.  (IW pp.97-8)
******************
Phew! That's a lot of words with very few laughs. Here are some short bits to make up for it.
First: some narcissism! Invisible Women has been shortlisted for the Non-Fiction Books Are My Bag Award. These are the only awards chosen by readers, which obviously means they are the most important ones — and I want to win! You can vote for your favourite Non-Fiction book (aka Invisible Women) here —and if you're feeling really generous (of course you are!) you could nominate Invisible Women for the Readers' Choice Award too!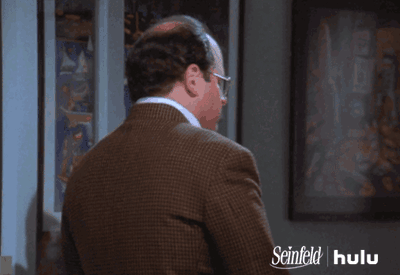 Wow live footage of you stopping and turning around after you scrolled past and didn't click and vote. Get back there. 
Gender Data Gap of the Week
This week the F.D.A. approved a new drug to prevent H.I.V. infection. In men. Despite women making up the majority of those living with it. From Invisible Women:
...in parts of Africa and the Caribbean women aged five to twenty-four are up to six times more likely to be HIV-positive than young men of the same age. We also know that women experience different clinical symptoms and complications due to HIV, and yet a 2016 review of the inclusion of women in US HIV research found that women made up only 19.2% of participants in antiretroviral studies, 38.1% in vaccination studies and 11.1% in studies to find a cure.
But here's the kicker. The maker of this drug is called — I shit you not — Gilead. They were founded in 1987, two years after the publication of the Handmaid's Tale. What was that I said about this not being a conspiracy?
Default Male of the Week
This court report tickled me.

And yes the three people who are not the occupation "woman" are indeed all men.

Win of the week

I'm making an effort to reintroduce this after two audience members suggested that I am perhaps not jolly enough. I have no idea what they mean, I'm great fun.

So this week I am going to be giving you TWO WINS, because I'm generous.

First, those of you who have read your Invisible Women will know that endometriosis (which causes the estimated one in ten women it affects debilitating pain, extremely heavy periods and sometimes infertility) takes an average of eight years to diagnose in the UK. Now the BBC has conducted research into the imapct of the disease into women's lives -- and it's pretty shocking. Half of the 13,500 women who took part said they had suicidal thoughts; many are reliant on highly addictive painkillers. 
Now 19, Bethany says: "The pain is like barbed wire wrapped around your insides and someone's pulling it while at the same time an animal is trying to eat its way through you."

At one point she was in so much pain that she took an overdose.

"I texted my boyfriend and said goodbye. I was ready to end my life there and then because of the pain."

She was finally diagnosed this summer following surgery and - though still in daily pain - she is managing to cope.
Where is the good news, you ask? Well, following the release of the BBC's research, MPs have announced an inquiry into the impact of the disease on British women. Hopefully the first step to some concrete action on a disease from which far too many women have to suffer in silence.

And the good news just kept coming this week: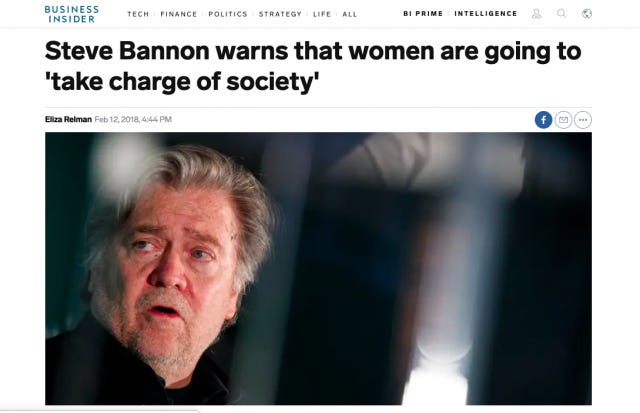 I fail to see the problem here, Steve

Toilet Queue of the Week
I'm sticking with theatres this week with Victoria Palace Theatre, which appears in my mentions on a weekly basis. The queues for the ladies here are legendary -- which is annoying, because it's where Hamilton is showing and I still haven't seen it. 


Shall email and we ask them to sort it out? 😏
I am now arriving at my final destination so I'm going to leave it there. Byeeee!!
 

Oh crap! I forgot Poppy pic of the week again! Here she is looking regal on my lap while I spoke at The DigitalAgenda Power & Responsibility Summit. As you can see, she's super into my excellent gender data gap chat.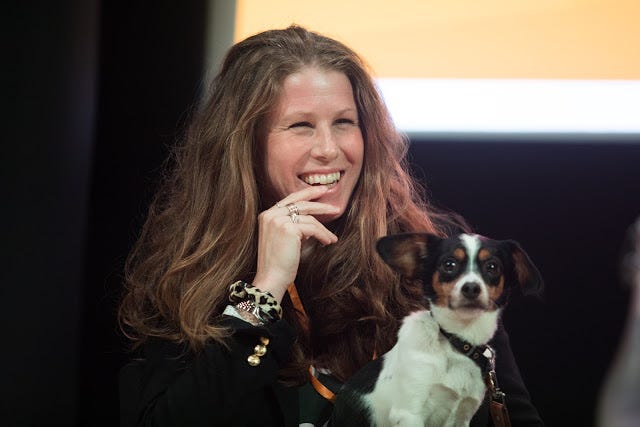 OK, actual bye now! xoxo until next time, my GFPs!