Invisible Women Issue 7: Typically Sized Humans & Patriarchal Brownie Points
Well GFPs, I'm writing from another train — have I mentioned lately that I seem to live on trains these days? True and extremely fun story. Anyway, the last time I was on a train was for the Cambridge Festival of Ideas where I was extremely lucky to be chaired by the the Head of Cambridge University's Computer Science Department, Professor Copestake.

Now, be honest: how many of you pictured a man?
Anyway, as professor of Computational Linguistics, of course Professor Ann Copestake works with word-embeddings, something that readers of IW will know all about…OK actually I just checked the book and I see I didn't burden you with that particular phrase, but you nevertheless know all about them from Chapter 8, "One-Size-Fits-Men," where I talk about the issues of text-based algorithms that are trained on biased datasets:
"As well as under-representing women, these datasets are misrepresenting them. A 2017 analysis of common text corpora found that female names and words ('woman', 'girl', etc.) were more associated with family than career; it was the opposite for men. A 2016 analysis of a popular publicly available dataset based on Google News found that the top occupation linked to women was 'homemaker' and the top occupation linked to men was 'maestro'. Also included in the top ten gender-linked occupations were philosopher, socialite, captain, receptionist, architect and nanny – I'll leave it to you to guess which were male and which were female. The 2017 image dataset analysis also found that the activities and objects included in the images showed a 'significant' gender bias. One of the researchers, Mark Yatskar, saw a future where a robot trained on these datasets who is unsure of what someone is doing in the kitchen 'offers a man a beer and a woman help washing dishes.'"
Anyway, this computational text-analysis that determines the meaning of words by analysing the context in which they appear is usually referred to (certainly in all the papers I read) as "word-embeddings." So as you can imagine I was very excited to talk to Professor Copestake about word-embeddings. Except when I mentioned word-embeddings to the Prof she was not very impressed — and she told me the story of Karen Spärck-Jones.


You see, Karen Spärck-Jones was the woman who first came up with this computational way of analysing language. Only, she didn't call it "word-embeddings." That is the term coined by a man who apparently did not think to cite Spärck-Jones when he was "inventing" his analysis.
But he should have because as her belated New York Times obituary reveals, Spärck-Jones was way ahead of him — and everyone else.
She was trying to figure out how to get computers to understand human language (which is pretty complicated given how many words have several nuanced meanings depending on context) when most computer scientists were trying to teach people to speak computer.
Her work on what she called "distributional semantics" forms the basis of pretty much any search engine you care to use today naming no male-dominated-companies' names. 

"Anything that does index-term weighting using any kind of statistical information will be using a weighting function that I published in 1972," she said in an interview with the British Computer Society. And as AI becomes increasingly prevalent, her work is being used more and more to the extent that it's simply taken for granted — work that even ten years ago was seen as "mad nonsense."
She even foresaw the dangers many of us are only just waking up to: of having the future coded by people who have got no clue — and even less interest — about the social implications of what they are working on. And, perhaps as a result, she was an advocate for women in the field. "Computing," she said, "is too important to be left to men."
Amen, sister.
 
---
Professor Ann Copestake Coda / Gender Data Gap of the Week
As well as filling me in on my new hero, Professor Copestake also brought me a present! Which makes her my favourite chairperson this year.

So close to me having my very own discourse.CCP
Anyway this book that is not called discourse.CCP is a book of poems by a programme called discourse.cpp which is based on a scientific principle called "distributional similarity." That is, that if two words appear in similar contexts, their meaning is similar. The programme was trained using 200,000 pages from Wikipedia….and this is the poem it came up with for "Gender."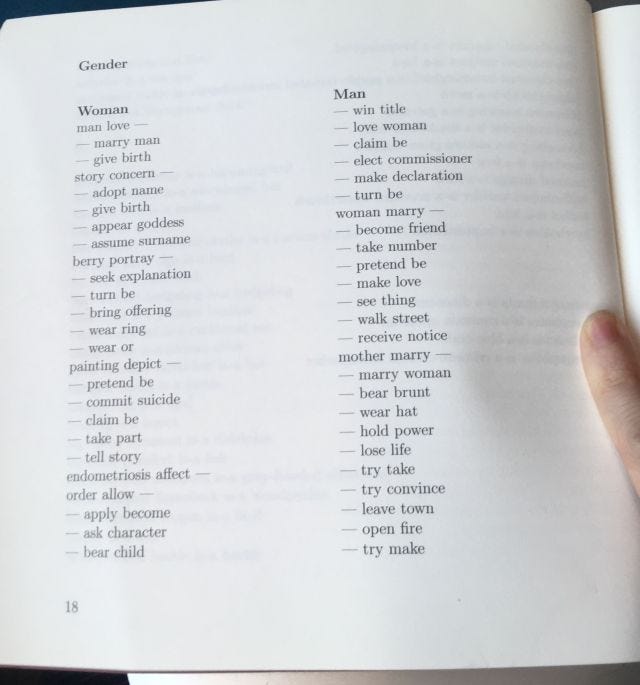 🧐
It reminds me slightly of this week's Inexplicable Sexist Bullshit: an Occasional Series, which comes courtesy of Ernst & Young's leadership training course for women (because women, you understand, are the problem) which as well as Henry Higginsing all over the shop, handed down some truly baffling trash science to the poor women it was trying to "fix." Women's brains, apparently, are like pancakes, while men's brains are like waffles [citation needed], and while men are competitive, women are femininity. We just ARE femininity. None of that de Beauvoir nonsense here, my friend.I can only assume that whoever came up with the comparison "Loves children" vs "Has Leadership Abilities" has never met a child.
 
---

Gender Data Gap of the Week: Mk II
Remember the sexist fossils from Newsletter 3? Well now I give you sexist mammals and sexist birds! Yes, it turns out the Natural History Museum could be more accurately called the Natural Male History museum since it seems their history of females is…somewhat lacking. From the NHM paper (and they are to be commended for conducting and publishing this analysis themselves, so there's a mini win of the week for you):
"On the surface, a slight bias towards males in museum collections might not seem like much of an issue. But there are many aspects of a species' biology and behaviour that are affected by an animal's biological sex.

At a basic level, if a study is looking at the taxonomy of a species and there are significant differences between males and females in their morphology, any bias towards the males could result in it being difficult to identify females down to species levels, as females are underrepresented in collections.

These biases can go even deeper. For example, males can be more susceptible to parasites as testosterone inhibits the immune system. Where collections are sex-biased, research looking into infection and immunity within a species could be skewed. 

As research is advancing into more technical analyses, these biases can cause significant differences. Stable isotope ecology can use the chemicals found in tissue to figure out where an animal may have been living or migrating based on what they were eating during their lifetime. But some species may have sex-segregated diets, meaning that you cannot draw inferences about a species in general if the underlying data is overrepresented by one sex."
Here's what I said to the Guardian when they called me for comment:
The scientific world and wider society sees male as the default setting, says Criado Perez. So it's not about evil, misogynistic specimen collectors deliberately ignoring female examples. "We all have this bias of seeing male as the neutral, the default, the baseline – those are the words that get applied to men. Even in clinical data sets you'll find male represented as the baseline and female represented as an effect."

But the result is bad science. "You would think that if you care about the procreation of certain species, you would need to know what both sexes are like," she adds. "And if you care about accurately studying and representing the world, which of course is the whole point of science."
A lot of people were really angry at this research even being done. "Misandry!" they cried. "Feminists are trying to kill off men!" Or, they pointed out "well of course the male specimens are more showy so OBVIOUSLY they have been collected more, DUH dumb feminazis are so lame MUM where's my pants [I may have made that last bit up]."

Which of course all misses the point entirely. It doesn't matter WHY this bias exists. It doesn't matter if it's the work of big meanie misogynist collectors or if it's just an oversight. The result is the same, which is that we are currently doing bad science. And whether you're a feminist, a misandrist [sic], or even a good old-fashioned MRE, you should should care that science is based on accurate data.

From the preface of Invisible Women: 
The point of this book is not psychoanalysis. I do not have direct access to the innermost thoughts of those who perpetuate the gender data gap, which means that this book cannot provide ultimate proof for why the gender data gap exists. I can only present you with the data, and ask you as a reader to look at the evidence. But nor am I interested in whether or not the person who produced a male-biased tool was a secret sexist. Private motivations are, to a certain extent, irrelevant. What matters is the pattern. What matters is whether, given the weight of the data I will present, it is reasonable to conclude that the gender data gap is all just one big coincidence.

I will argue that it is not. I will argue that the gender data gap is both a cause and a consequence of the type of unthinking that conceives of humanity as almost exclusively male. I will show how often and how widely this bias crops up, and how it distorts the supposedly objective data that increasingly rules our lives. I will show that even in this super-rational world increasingly run by super-impartial supercomputers, women are still very much de Beauvoir's Second Sex – and that the dangers of being relegated to, at best, a sub-type of men, are as real as they have ever been. 
Gratuitous Snark Coda


---
Default Male of the Week
I regret to inform you that Bill Bryson is cancelled*

*OK he isn't cancelled but he's been a very naughty Reference Man.
 
---
"LOOK MA!!!" of the Week
Look at how pretty the paperback edition of Invisible Women is! Available March 2020 (those of you who already have soft cover versions that's the trade paperback that is the export edition. It's much bigger than this will be and doesn't have all these BEAUTIFUL COVER QUOTES 😍😍😍)

brb just dying of smug 😏
 
---
Short Story Interlude
Love in a Changing Climate by Ali Wilding
I find it difficult to fuck someone after I've seen a rat. The problem is that even when we're home—tipsy, buzzing—I can't get its grotesque pinkness out of my head. The two of us clink fizzing glasses, but all I hear is that clicking rattle. When we kiss, the word tail loops in my mind like some febrile hallucination. I flinch at the touch of fingers on my flesh, imagining the scuttle of scaly feet. I glimpse a flash of midriff and see instead a rodent's supple torso writhing at the base of a trashcan, delicately licking the rim of a polystyrene carton or sucking soda from sticky pools. The thought of its wriggling bigness has me gagging and heaving all the way to the bathroom.

In Washington D.C., a great number of my dates end this way. I've told more white-lies to more near-strangers than even I am comfortable with. "I'm so sorry," I say. "It's not you—it's the shellfish."

"We didn't have shellfish," he says.

"I mean, I'm a celiac."

"You're a celiac?"

"Yeah. Well, I suppose I should say 'I'm a person with celiac disease.' I'm still an individual; I don't want to be defined by it."

"Really?"

"I've had it for years. My mother had it, too, and her mother before that, and her—"

"So why did you order the pasta?"

"What?"

"If you're 'a person with celiac disease,' why did you order pasta?"

"Celiacs can't eat pasta? That's terrible."
Find out if Ali manages to fuck in all the wrong places by reading on here.
 
---
Win of the week
STOP PRESS [this is actually a very humorous pun]: an organisation ACTUALLY acknowledging that it may be convenient, but it certainly isn't "clear" to refer only to the default male in a first aid manual.

Well done Laurie for chasing them up!
 
---
Toilet queue of the Week
GFPs, I regret to inform you that the queues for Hamilton are not limited to this side of the Atlantic: an article came out this week revealing that it is very much an issue for our sisters stateside, too. You probably saw this article, it went viral with seemingly everyone posting it with joy. This is so pure, people said. It's so beautiful. Amazing. Delightful.
I'm sorry, what? Beautiful? Delightful? Give me a [wee]break. All I see is a clearly underpaid usher making up for the terrible anti-woman design of the venue in which this $400 a ticket show is taking place. She is making it her responsibility to clear up after the mess of the people raking in the cash from the show — how much do you want to bet she doesn't get a percentage of takings? It's just another example of women (and actually particularly women of colour) cleaning up after everyone unpaid.
From Invisible Women, p.98
Women are also asked to do more undervalued admin work than their male colleagues – and they say yes, because they are penalised for being 'unlikeable' if they say no. (This is a problem across a range of workplaces: women, and in particular ethnic minority women, do the 'housekeeping' – taking notes, getting the coffee, cleaning up after everyone – in the office as well as at home.
Meanwhile, the female audience members still spent the entire interval in the queue stressing about whether or not they would miss the beginning of a show that, and I cannot stress this enough, they paid through the nose for. I'm starting to think that the producers of Hamilton just don't like women very much.
Look, there is no doubt that Tanya Heath is an over-qualified (she is a classically trained musician who plays five instruments) hero who needs a pay rise. But that doesn't negate the fact that this venue is taking the piss pun very much intended. Women pay as much as men for their theatre tickets and they get a distinctly worse service. It's insulting. It's an all too visible mark of our inferior status. And frankly, time is up for venues that charge ridiculous prices while treating their female customers with such disdain. Watch. This. Pissing. Space.
---
Me Looking Smug With My Book: An Occasional Series

I am currently in Amsterdam, here is a pic of me looking smug with a copy of Invisible Women in Dutch!


---
Poppy pic of the week!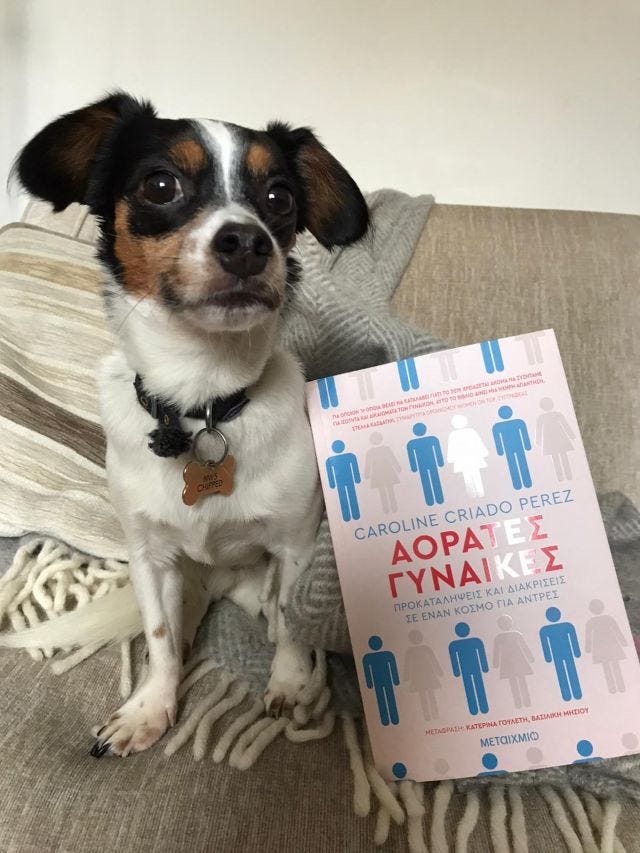 As I wrote this edition of the newsletter I was simultaneously trying to translate visible (f) dog (f) into Greek to post alongside this super cute pic of Poppy alongside the hard copy of IW in Greek that I now have in my grubby mitts. But Google translate would not give me the option to ask for a female doggo and therefore would only give me the translation for visible (m) doggo (m) and je refuse to be implicated in default male-ing my own bloody dog. So: no Greek for you!
Until next time, my GFPs….
STOP PRESS [this one isn't a pun]! Luckily for you twitter saved the day in the shape of a lovely Greek man who translated visible doggo for me. So here we have it! Σκυλάκι ορατή
/ends