Invisible Women Issue 9: default male gifs
GFPs! It's been an age -- and not the golden age either.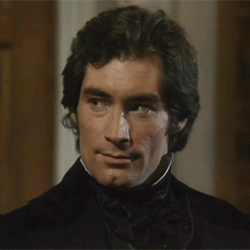 Anyway I'm on a train to Aberdeen all day, which feels like the perfect time to update you on the latest goings on. It may make no sense as I only got four hours sleep last night.

Unrelatedly, last night my Theatre Wife Helen Lewis took me to see The Watsons -- a new play by Laura Wade based on the unfinished fragment by Jane Austen. Here is Theatre Wife herself previewing The Watsons alongside the recent ITV adaptation of Sanditon
Today's adapters, though, are tired of seeing the writer dismissed as a narrow chronicler of middle-class domestic gentility, and are turning to her unpublished fragments to make the case for another Jane Austen—sharp, satirical, and proto-feminist.
Far be it from me to disagree with Theatre Wife, but while I think this certainly applies to Wade's Watsons, I don't think the same can be said for Andrew Davies's Sanditon, which to be honest I was just bored by. It could have been any old costume drama pastiche and the Sanditon fragment Austen left behind deserved better. More Downton Abbey than Northanger Abbey don't @ me. 

I must confess I was surprised by this Austen hit-job since the screenplay was by Andrew Davies of Colin Firth in the wet shirt fame. But then again his Pride & Prejudice does follow Austen's dialogue extremely faithfully. I can't help wondering if the difference here is that The Watsons was adapted by a woman?

Either way, despite slightly ruining the second half of The Watsons for myself by suddenly realising I had left my entire handbag in a by then closed cafe (hence the four hours sleep), I thoroughly enjoyed this smart, funny, meta, charming, Regency meets Pirandello (get in theatre studies A level I always knew you'd come in handy one day) adaptation. I feel sure that Austen would approve. And banknotes lady, (that's me!) approves of the SEVERAL references to the Austen tenner. 

Currently on at the Menier Chocolate Factory the play is transferring to the Harold Pinter Theatre next year

Chaser I: a thread of women realising that their initial dismissal of several women had far more to do with their own internalised misogyny than the women themselves. Inevitably, Austen features. 

Chaser II:  While Northanger Abbey is my least favourite Austen novel, it does include one of my favourite quotes, which faithful readers will recognise as the epigraph to the conclusion of Invisible Women:
The quarrels of popes and kings, with wars and pestilences, in every page; the men so good for nothing and hardly any women at all – it is very tiresome. 
Inevitable Colin Firth gif: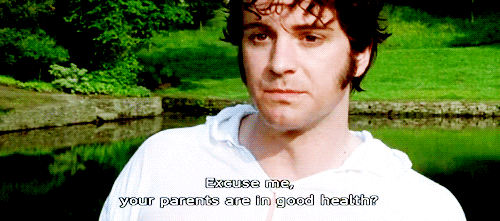 ---

Gender Data Gap of the Week

This study caught my eye this week. It found that if a pregnant woman takes acetaminophen (that's paracetamol to you and me) her child may be at higher risk of developing ADHD and autism.
Acetaminophen is the most commonly used medication for analgesic and antipyretic purposes among mothers during pregnancy and infants in early life. More than 65% of women in the United States and 50% in Europe ever used acetaminophen during pregnancy. Despite its widespread use, previous studies in animals and humans have found an association between prenatal acetaminophen exposure and increased risks of adverse childhood outcomes, including asthma, cryptorchidism, and neurodevelopmental disorders, includ- ing attention-deficit/hyperactivity disorder (ADHD) and autism spectrum disorder (ASD). 
[...]
For the first time to our knowledge, we examined the prospective association between cord plasma acetaminophen metabolites (a direct evidence of fetal exposure) and childhood ADHD, ASD, and other developmental disabilities (DDs) using data from the Boston Birth Cohort (BBC). This study aimed to address the limitations highlighted by the SMFM, FDA, and AAP in relevant previous studies.
Tut-tut anyone who is shocked that this is the "first time" this has been studied: you clearly haven't been reading your Invisible Women: 
Because of their routine exclusion from clinical trials we lack solid data on how to treat pregnant women for pretty much anything. We may not know how a disease will take hold or what the likely out- come may be, although the WHO warns that many diseases can have 'particularly serious consequences for pregnant women, or can harm the foetus'. Some strains of influenza virus (including the 2009 H1N1 swine flu virus) have 'particularly severe symptoms during pregnancy'. There is also evidence that SARS can be more severe during pregnancy. It is of course understandable that a pregnant woman may be reluctant to take part in medical research, but this doesn't mean that we have to just throw our hands up in the air and accept that we know nothing: we should be routinely and systematically tracking, recording and collating pregnant- women's health outcomes. But we aren't – not even during pandemics: during the 2002–4 SARS outbreak in China, pregnant-women's health outcomes were not systemically tracked and 'consequently', the WHO points out, 'it was not possible to fully characterize the course and outcome of SARS during pregnancy'. Another gender data gap that could have been so easily avoided, and information that will be lacking for when the next pandemic hits. (IW, p.199-200)
Painkiller research does not buck the pregnancy-shaped hole in the data. Tucked away at the bottom of the NIH press release for this study is a line that reads: "The U.S. Food and Drug Administration urges careful consideration before using any pain-relieving medication during pregnancy." If you follow that link, you get taken to a 2015 FDA safety announcement which acknowledges people's concerns following reports concerning the safety of certain over the counter pain medications. So they decided to review all the available evidence. Their conclusion? The research is "too limited to make any recommendations based on these studies at this time."

Rare live-action footage of the FDA conducting research

Here's some more we don't know about women and pregnancy, plus a bonus book recommendation!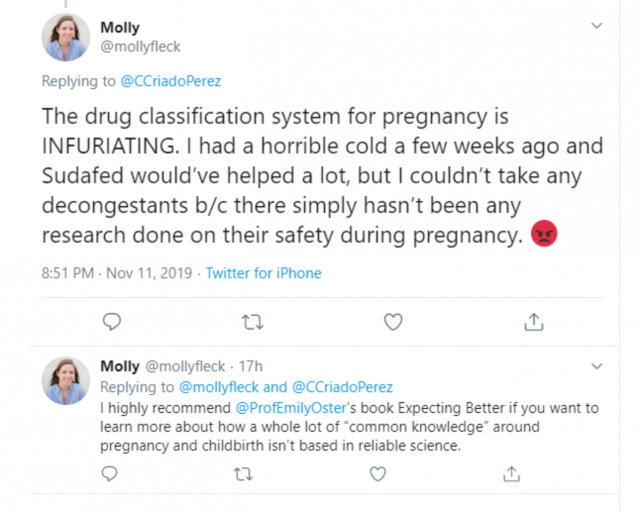 One more thing, just about acetaminophen, because it's not just foetuses it may be a problem for. Acetaminophen is an ingredient in many pain medications, including cold and flu meds, which are, certainly in my experience, always sold in gender neutral dosages. Packaging will give you a dose for children up to the age of 12, and a dose for "adults". But adults, as ever, means men. Which matters when it comes to acetaminophen, because it is "eliminated by the female body at approximately 60% the rate of elimination documented in men". 

Women make up a significant majority of patients with acetaminophen-induced acute liver failure which also tends to be more severe in women (don't panic, this is pretty rare). The research is not clear on why this is, but it does not seem totally unreasonable to suggest that sex differences in elimination may play a role. As ever, though, we just don't really know much. This is what the NHS "Paracetamol for Adults" advice page has to say about it: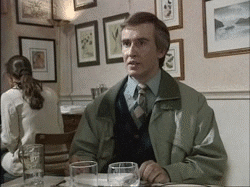 (yes that's right it's not mentioned) 
---
Default Male of the Week

First up, this very good pregnancy-related point made by Kate Kelly: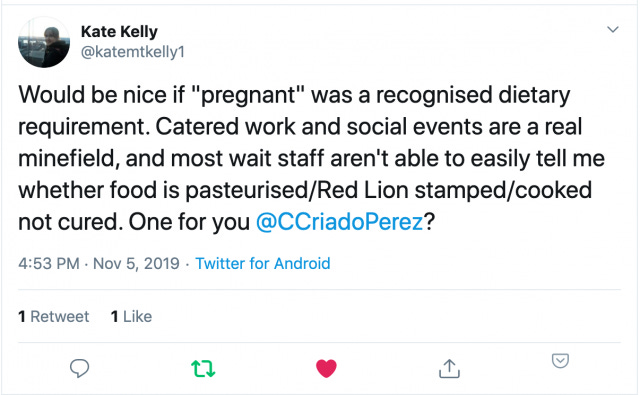 Well, why isn't it??

And then...well, then there's this, spotted by @ChrisPaget1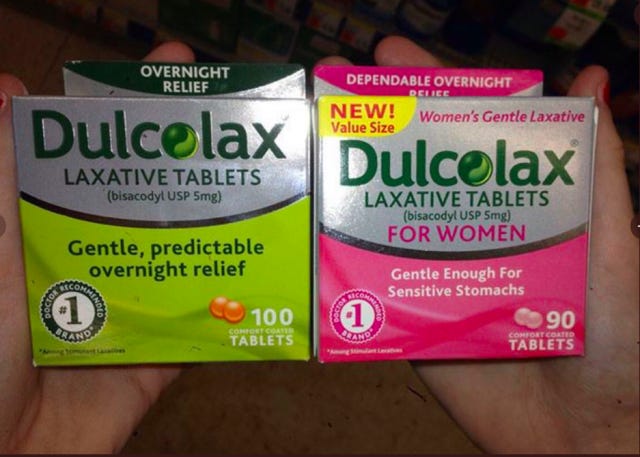 OK, so a default male black mark there, but don't worry, because the female dulcolax is "formulated differently" to standard human dulcolax....oh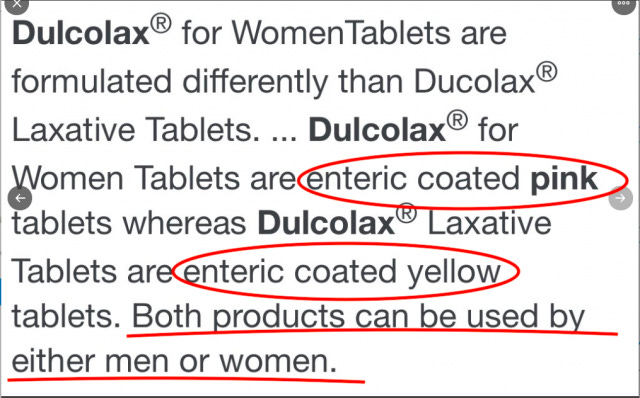 I'm sure my female bile acid composition (yes that's a thing, see IW p.215) will truly appreciate the pink coating.
 
---

An Art of Our Own

Nothing to say about this except the obvious.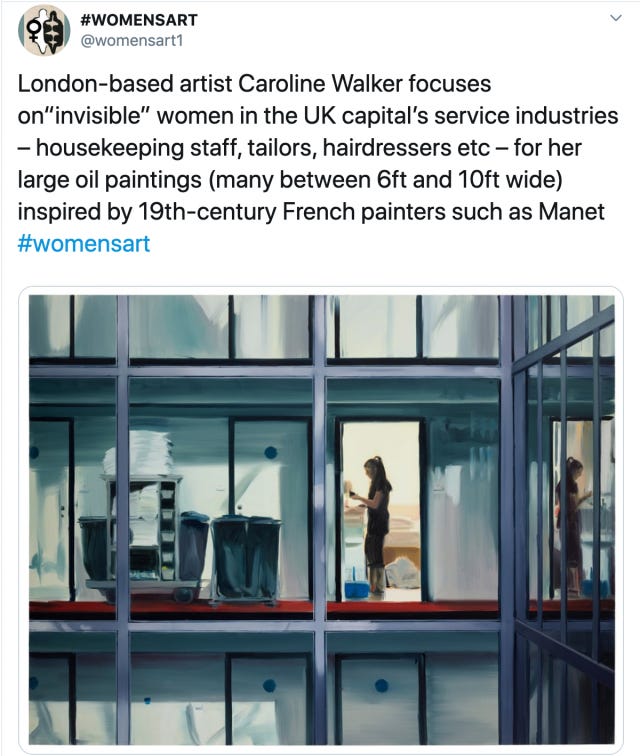 ---
Toilet Queue of the Week Which I Might Rename Taking the Piss of the Week



Oh come ON, The O2

Taking the Piss Coda: Special shout out to Bryan who feels my pain.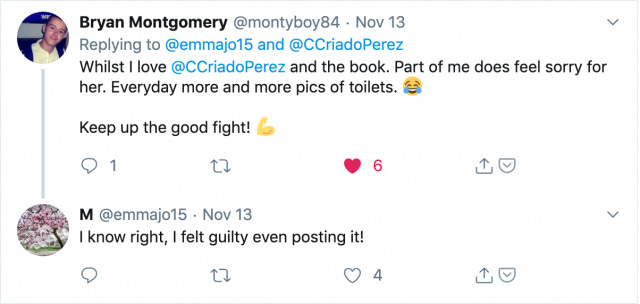 ---
It Wasn't All Bad (for me anyway)

We won another prize! 


Woohoo! Here is me giving my acceptance speech just before Jordan Stephens of Rizzle Kicks fame sassed me: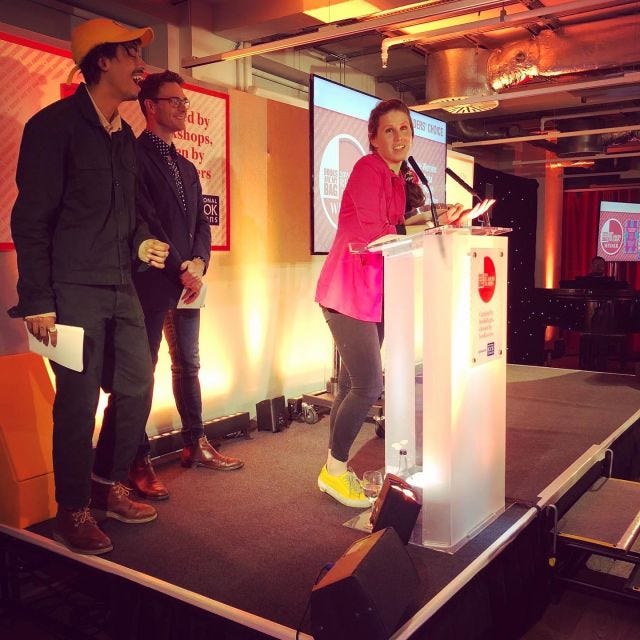 But I forgive him, because he's written this great and honest piece on toxic masculinity, how he participated it in the past, and why men need to fix it. Plus I deserved the sass tbh.
 
---
Poppy Pic of the Week

Pleasing circularity to this week's (month's?) newsletter as I'm closing with a photo of Poppy from when we went to meet the Theatre Wife for lunch. We sat uneventfully in the lobby of he work for a while until an even smaller even more excitable dog (a puppy) came in and all adorable hell broke loose as they went into orbit. Poppy, naturally, took advantage of the confusion to steal this woman's lunch. Also pictured, the Johnny-come-lately unleasher of the havoc failing to get a look-in. Not pictured, Poppy's head or my extreme embarrassment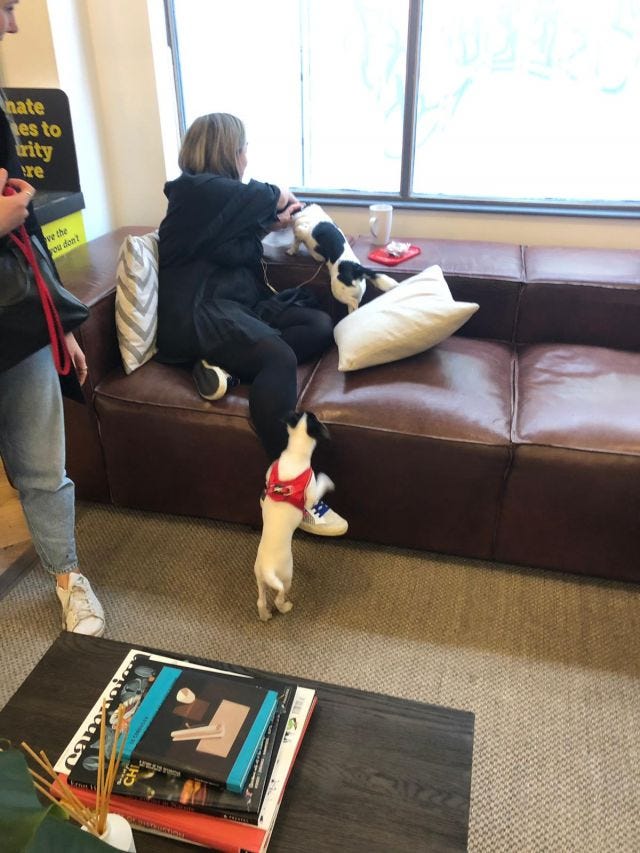 That's it! Until next time, carry on being generically female xoxoxo

Oh PS, ICYMI I wrote a piece for The Sunday Times about being a bitter twisted old crone: